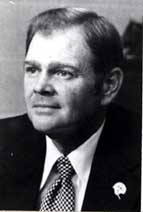 Recognition – it comes in many shapes and sizes; a simple handshake, a pat on the back or your name in lights, but there are those rare occasions when something much more meaningful is required.
On Saturday, Oct. 6, Delta State University will recognize Horace L. McCool, one of the greatest collegiate head coaches in Mississippi football history, with the ultimate pat on the back. In a ceremony to be held during the Statesmen's contest versus Arkansas Tech, the stadium will officially be named in McCool's honor at Travis E. Parker Field. Through a Board of Trustees of State Institutions of Higher Learning resolution, the new name of Delta State's football facility will be Travis E. Parker Field at Horace L. McCool Stadium as of Saturday, Oct. 6.
"I am honored beyond words," said McCool. "Delta State has always been such an important part of my life and for over 30 years I called it home. I want to thank the University, President Dr. John Hilpert, Jeremy McClain and all of the former assistant coaches and players who made this possible."

For nearly 10 years, Delta State has looked for a proper way to honor the Delta coaching legend. Thanks to the hard work of the McCool Stadium Committee, a group comprised of former players led by Ned Mitchell and E.E. "Butch" Caston, the plan to name the stadium after coach McCool is finally complete.
"Coach McCool plays a valuable role in the history and tradition of Statesmen football at Delta State University," Jeremy McClain, Director of Athletics said. "We have looked for many years at a way to properly recognize the most successful coach in our program's history, and thanks to the work of several former players, we have found it."
On Oct. 6, Delta State will honor coach McCool, his family, former coaches and players with a ceremony at halftime of the Arkansas Tech game.
Horace McCool served as the head coach of the Statesmen from 1961-1973. Over the span of those 13 seasons, the Boyle native recorded 76 wins, 48 losses and three ties. From 1961 to 1966, McCool's teams reeled off six-straight winning seasons and an outstanding 41-15 record. His 76 wins still stand as the all-time record for a head coach at Delta State, and he still holds the distinction of being the only coach in Statesman history to have six-consecutive winning seasons as a head coach.
McCool also proved to be an outstanding leader, directing the University's athletic programs as Director of Athletics from 1967 to 1977. During McCool's tenure, the Statesmen and Lady Statesmen enjoyed unparalleled successes on the field and in the classroom. The Lady Statesmen basketball team marched to three-straight national championships under head coach Margaret Wade in the mid-70's, and the Statesmen baseball program made two-trips to the NCAA College World Series just to name a few.
In 1971, McCool played as major role in Delta State's joining the Gulf South Conference. At that time, the GSC was a 10-member league with universities in Alabama, Mississippi, Louisiana and Tennessee. Some 36 years later, Delta State Athletics stands as the measure of success in the 15-team, six-state league with nine national titles and 31 conference championships.
After spending 25 years serving the Department of Athletics as a coach and administrator, McCool resigned as Director of Athletics in the spring of 1978. He went on to serve the University as Physical Plant Director for several more years.
McCool is a charter member of the Delta State Athletic Hall of Fame. In 1978, Delta State presented the long-time coach and administrator with the
McHardy Service Award,
and in 1997 the American Football Foundation presented McCool with the prestigious
Johnny Vaught Lifetime Achievement Award.
McCool played two seasons for legendary Ole Miss coach Johnny Vaught from 1948-49 before transferring to Delta State. He would receive his bachelor's degree in Education from DSU in 1952. Two-years later, he received his master's degree in Education from the University of Mississippi. He is married to the former Barbara Bole of Shaw. The couple has three children, one daughter Memorie Naron of Cleveland, and two sons, Mike McCool of Jacksonville, Fla., and Scott McCool of Houston, Texas. The McCool's are also the proud grandparents of several grandchildren.