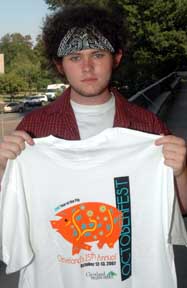 Delta State sophomore Caleb Sexton shows off his t-shirt design for Octoberfest. The design features a colorful pig with Chinese influence, derived from the Chinese calendar which heralds 2007 as "The Year of the Pig."
Delta State University sophomore Caleb Sexton shows off the design he created for the upcoming Octoberfest events.
His concept will be transferred to commemorative t-shirts and aprons, both of which will be on sale at the two-day event. Scheduled for Friday, Oct. 12 – Saturday, Oct. 13 in downtown Cleveland, the 25th Annual Octoberfest Arts & Crafts Show is being sponsored by Cleveland-Bolivar County Chamber of Commerce.
A work-study student in the Office of University Relations, Sexton is a graphic design/photography double major. Of his original concept, the Tuscaloosa, Ala., native offered, "I was excited to have the opportunity to work with Chamber on another of its design. I am especially proud of this design."
For more information on the downtown festival featuring live entertainment, arts and crafts vendors, concessions and a barbecue contest, please call (662) 843-2712.