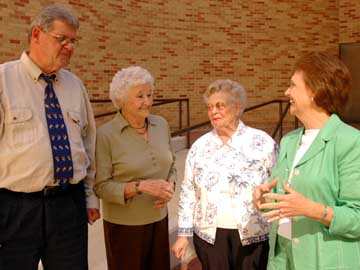 From left, Dr. Wayne Lee, Delta State Class of 1957, Mary Ellen Leftwich, 1939 Delta State graduate; Nancy Gerrard, representing Delta State's Golden Circle; and Vicki Fioranelli, Alumni Director, look over the atrium of Jobe Hall in preparation of the University's upcoming Homecoming activities.
Delta State University's annual Homecoming celebration is just a week away and excitement is building on campus and among alumni.
"Homecoming is always such an exciting time of year," Vicki Fioranelli, Alumni Director at Delta State, boasted. "This year we
are 'Honoring Veterans' as our theme, and we expect that to bring back so many folks to campus. Homecoming is the perfect opportunity to reconnect with the campus, with old classmates and with new students. There is so much planned for the weekend with ample places and events to find those connections."
Mary Ellen Leftwich, a 1939 graduate who has missed only one Delta State Homecoming in 68 years, believes in those connections. The Gunnison resident explains, "Delta State means a whole lot to me and I enjoy coming back to see old friends and new friends. I look forward to Homecoming and all of the activities associated with the weekend each year."
Some of the many events planned for Homecoming 2007 are: (Friday Oct. 26) Downtown Merchant Window Display Competition; Golden Circle Inductions (Classes of 1928-57) at 6 p.m. at the Catholic Church Fellowship Hall; (Saturday, Oct. 27) Homecoming registration starts
at 8:30 a.m. on the first floor of the H.L. Nowell Union; at 11 a.m. the Preview Ceremony for the Veterans' Memorial Atrium in Jobe Hall will be held; and starting at noon activities begin at Statesmen Park.
The weekend will conclude with the Statesmen taking on Gulf South Conference opponent, West Georgia at 4 p.m. inside Travis E. Parker Field at Horace L. McCool Stadium. The presentation of the Homecoming Court and naming of the Homecoming Queen will be
held at halftime of the ball game.
For more information, please call the Delta State Alumni Office at (662) 846-4660.