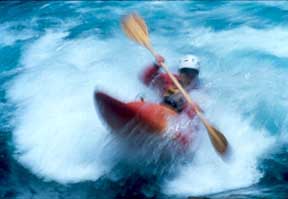 Delta State alumnus, Land Heflin in action on the Rio San Pedro, Patagonia, Chile in South America. He will return to campus Tuesday, Oct. 23 to chronicle his wild white-water adventures. (Photo Credit: Dunbar Hardy).
Having just returned from leading 30 Delta State University students on a white-water adventure down the Chattooga River, alumnus Land Heflin will present an exciting multi-media travelogue this Tuesday, Oct. 23 at 6:30 p.m. inside the Henry J. Jacob Conference Center (Ewing Hall) on campus.
Sponsored by the College of Education and Graduate and Continuing Studies, Heflin's presentation will chronicle his many breathtaking, heart-stopping global adventures conducted by his Montana and Oregon-based kayaking/outdoor adventure company,Team Tarkio (
www.teamtarkio.com
).
Born, raised and educated in Cleveland, Heflin graduated from Delta State in 1995, and today serves as adjunct instructor in Recreation. Throughout his life – from toddler to graduation – Heflin shadowed his father, Dave and Dr. Henry Outlaw, both former professors at Delta State, during hundreds of white-water, camping and snow skiing trips with students in Recreation courses, fondly called the Outback Kayak Club.
Heflin's chosen vocation began with summer seasons serving as a raft guide and kayaking instructor for the Nantahala Outdoor Center in North Carolina. He later joined Ultimate Descents in Nepal as a guide, before being promoted to trip director. He eventually came on staff
at Team Tarkio.
When Team Tarkio founder, Brenan Guth passed
away in 2000, Heflin continued Guth's dream with another friend, Dunbar Hardy. Their local clinics, instructional classes and river tours utilize western trips with global expeditions in areas like Canada, New Zealand, South America, Nepal, China, Africa and Bhutan.
The event is free and open to the public. For more information on Heflin's upcoming talk, please contact the Division of Health, Physical Education and Recreation at (662) 846-4555.