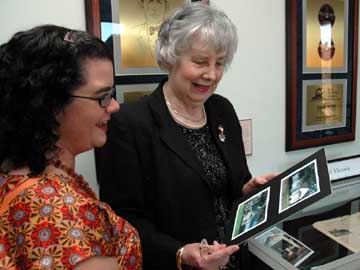 Delta State Archivist Emily Weaver (at left) looks over photos of historic homes located in Cleveland with Dr. Martha Swain, adjunct professor of history at Mississippi State University.
Swain presented "The Political and Social Context of the Bungalow Home: 1890-1990" at the opening reception of the exhibit. Swain's writing has won her the Eudora Welty Award from the Mississippi University for Women. She co-authored, with Dorothy Shawhan,"Lucy Somerville Howorth: New Deal Lawyer, Politician, and Feminist from the South."
The exhibit is located on the second floor of the Charles W. Capps Jr. Archives and Museum at Delta State. The exhibit is financially assisted by the Mississippi Humanities Council and the National Endowment of the Humanities.
Free and open to the public, the exhibit is set to run through
Tuesday,
Dec. 18. Museum hours are Monday – Thursday, 8 a.m.- noon and 1-5 p.m. and Friday, 8 a.m.- noon and 1-4 p.m.For more information, please call at (662) 846-4780.