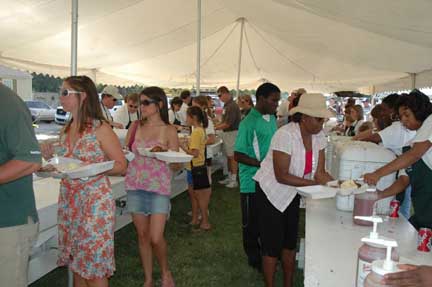 Fans make their way through the serving lines at Pig Pickin' last year.
For the past 21 years, Pig Pickin', Delta State's annual tailgating and barbecue celebration, has been held at Shumate Park. Things are changing this year, as the festivities have been moved to Statesmen Park – north of the football stadium.
"This year's event is scheduled for Saturday, September 15, and we are so excited with the move to Statesmen Park," reports Vicki Fioranelli, Alumni Director. "Because of the overwhelming success of past Pig Pickins', we simply outgrew the previous location. We are fortunate to have this larger area, which can accommodate the many groups that participate annually and allow Pig Pickin' to continue to grow.
"The area has been named 'Statesmen Park' and fans will arrive to see a new arch and foot bridge at the entrance. A record 18 teams have entered the barbecue cooking competition and live entertainment will be featured on the stage throughout the afternoon, culminating with, of course, the football game," Fioranelli continued.
Festivities will begin at 2 p.m. and lead up to a showdown between the No. 7 Statesmen (1-0), fresh off a 27-15 win over Jackson State
, and Gulf South Conference opponent, Henderson State University
.
"We're excited about the future at Statesmen Park," said Jeremy McClain, Director of Athletics. "Our plan is to provide the best pregame environment we can offer and Statesmen Park will allow us to do just that!"
Barbecue will be served from 3 p.m. to 5 p.m.Tickets are on sale now for the BBQ feast. Tickets are $6 for BBQ and $10 to the Delta State versus Henderson State game.
A complete list of events is below. If you have any questions, please contact DSU Athletics at (662) 846-4300 or the Alumni Association at (662) 846-4704.
Pig Pickin' Events
1 p.m.Cooking Competition Begins
2 p.m. – 5 p.m.CellularSouth KidZone
2 p.m.Bayou Academy Elementary Dance Team
2:15 p.m.PDS New Song
2:30 -3:30 p.m.Ol' Skool Revue & DeltaRox Music Group
3 p.m. – 5 p.m.BBQ Serving Lines Open
3:30 p.m.Pep Rally
3:45p.m. Football Team Walk-About
4:30p.m. Firefighter Recognition
5p.m. Cooking Competition Winners Announced
6 p.m. DSU vs. Henderson
State
, Parker Field