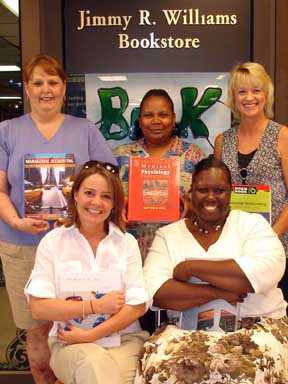 Delta State University Textbook Loan Awards were recently presented to (front row, l. to r.) Christie Ayers,

Sharron Clifton, (back row, l. to r.) Barbara Knight, Betrick Scott and Bobbie Dean.
Delta State University recently recognized five deserving staff members as the fall 2007 recipients of DSU's Staff Textbook Loan Program. Christie Ayers, Admissions; Sharron Clifton, Library; Bobbie Dean, Physical Plant; Barbara Knight, Biological and Physical Sciences; and Betrick Scott, Small Business Development Center will each receive up to $100 toward the purchase of their textbooks for this semester.
The program is sponsored by Delta State's Administrative Staff Council and Follett Bookstore. Staff Council serves as a liaison between the DSU administration and staff. The DSU Administrative Staff Council is dedicated to excellence in service and the continued growth and development of the University.

"One focus of the Council is to institute programs that provide opportunities for staff development," explained Christy Montesi, Chair of Staff Council's Staff Development Committee. "The textbook loan program is a great way to aid staff members in reaching their educational goals by off-setting the expense of textbooks."
Awards are based on a first-come, first-serve basis, and a maximum of five awards are given each semester to full-time staff.
"We are excited to report we had staff from 13 different departments apply for the fall semester," added Montesi.
"Follett Books supports the academic efforts of every student at Delta State University, and we wish them every educational success. We are proud to be a sponsor of the Textbook Loan Program that helps reduce the financial burden of course materials for staff," Griffin Hite, Store Manager of the DSU Jimmy R. Williams Bookstore said.
For more information on Delta State's Staff Textbook Loan Program, please contact Montesi in Career Services at (662) 846-4646.