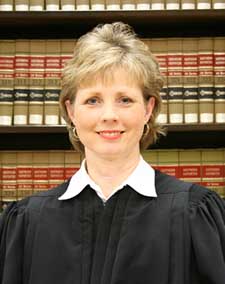 Associate Justice Ann H. Lamar.
Each year, Delta State University's Madison Center honors the U.S. Constitution on or about Sept. 17 – the original adoption date of the Constitution in 1787.
This year, The Madison Center, under the direction of Dr. Garry Jennings, will welcome back to campus Delta State alumna, Associate Justice Ann H. Lamar.

Scheduled for Tuesday, Sept. 18, Justice Lamar's presentation will be held in the Henry J. Jacobs Conference Center in Ewing Hall at 12:15 p.m. on campus.

A native of Senatobia, Justice Lamar was appointed to the Mississippi Supreme Court May 21, 2007, becoming the third woman to serve on the State's Supreme Court. Gov. Haley Barbour appointed Justice Lamar to the vacancy created by the retirement of Presiding Justice Kay B. Cobb.
Justice Lamar previously served five and a half years as a circuit judge from the 17th Circuit Court, which is made up of DeSoto, Panola, Tallahatchie, Tate and Yalobusha counties. From January to May 2007, she presided over the 17th Circuit Drug Court, supervising program participants in four of the five counties in the district.

Justice Lamar concluded a year as chair of the Conference of Circuit Judges in April 2007. She previously served for a year as vice-chair of the conference.

She served for a year and 10 months as district attorney in the 17th District. She was an assistant district attorney from August 1987 to January 1993 and from January 1996 to December 1999.

Justice Lamar attended Northwest Mississippi Junior College 1970-1971 and earned a Bachelor of Science degree in education from Delta State University in 1974.

She worked as an administrative assistant in the Governor's Office of Education and Training from 1974 to 1977 while her husband, John T. Lamar Jr., earned a law degree from the Mississippi College School of Law. They returned to Senatobia, where she worked as a court reporter in chancery court for two years. She earned a law degree from the University of Mississippi School of Law in 1982.

She practiced law with her husband in Senatobia from May 1982 to August 1987 and from February 1993 through December 1995. Their practice involved litigation in civil, criminal and domestic relations cases. Their firm represented several governmental entities, including the Tate County Board of Supervisors

Justice Lamar and her husband are the parents of two adult children, John T. Lamar III (Trey), and Vance Lamar.
The Madison Center is the university's center for the study of democracy, human rights and the constitution. The Center supports largely student-administered programs engaged with the curriculum and woven with the literature of political philosophy, law and policy.
The lecture is free and open to the public. For more information, contact the Office of University Relations at (662) 846-4675.