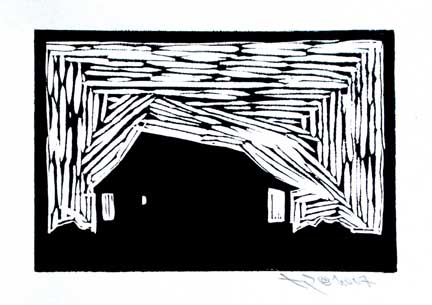 "untitled" by Jimmy Tillotson
Delta State University's Wright Art Center Gallery will host its first exhibition of the academic year, as "STRUCTURES" by Jimmy Tillotson – a one-person art show – opens Sunday, Sept. 16 from 4-6 p.m. in the gallery on campus.
The exhibition will consist of relief blockprints, ceramics and artist-made furniture. Tillotson believes he is "a traditional printmaker (practicing) the oldest, simplest, and most direct form. The interaction of the tools, the wood and my concepts produce a unique piece of craftsmanship."
He received his bachelor's degree from the University of Texas of the Permian Basin and his master's in fine arts in printmaking from the University of Mississippi and is currently an adjunct professor of art at Hinds Community College in Raymond.
Prior to his appointment, he taught art at Austin Peay State University in Clarksville, Tenn., and the University of Mississippi in Oxford. He has been exhibited in the southern region in solo and group shows and his art is included in collections of several higher educations institutions in Texas and Mississippi.
The community is cordially invited to attend the opening reception to view the work and meet the artist. The exhibit will be available for viewing through Friday, Oct. 26. Gallery hours are Monday-Thursday from 8 a.m. – 8:30 p.m. and on Friday from 8 a.m. – 3:30 p.m.
For more information, please call the Wright Art Center at (662) 846-4720.