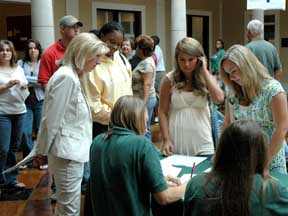 Newly enrolled freshmen await their turn in line at a recent orientation session. The 2007 freshmen enrollment (480) represents the second largest class in University history.

Delta State University officially announced its headcount enrollment for the fall 2007 semester today at 4,091 students, with freshmen enrollment capping at 480 students.
The 2007 freshmen tally represents the second largest class in University history. Overall, the DSU enrollment was 126 students smaller than last year. The areas showing fewer students were graduate and off-campus programs.
As a state, Mississippi saw overall growth in its enrollment at the eight public universities, with enrollment figures surpassing 70,000 students for the first time in history. Preliminary fall 2007 enrollment figures show an increase of 1.2 percent in the student population, up from 69,941 students in fall 2006 to 70,800 students in fall 2007.
Compared to those state-wide figures, Delta State was among five other schools that showed slight enrollment reductions, including Mississippi University for Women (-2.0 percent), Mississippi Valley State University (-4.8 percent), University of Mississippi (-0.6 percent) and University of Southern Mississippi (-1.3 percent). Jackson State University registered the largest enrollment growth in the state, increasing to 8,699 students this year compared to last year's 8,256.
"We are pleased once again to exceed our target of 4,000 students. Delta State University is committed to academic excellence, and our large enrollment of new freshmen clearly shows that families value our programs," Delta State President, Dr. John M. Hilpert offered. "We are committed to ensuring that every student at Delta State University receives the best education possible and continues through to graduation."
Dr. Debbie Heslep, Dean of Enrollment Management, shared in Hilpert's sentiment, continuing, "The marketing efforts by the University, along with our recruiting staff have made great progress in making Delta State University known throughout the region's local high schools. Our goal is and will continue to be increasing the awareness of the University and all of its top-rated offerings."
Area recruiters are positioned throughout the state of Mississippi, as well as Tennessee, Louisiana, Alabama and Arkansas to assist students interested in enrolling at Delta State University. Recruiter territories include North Mississippi and Tennessee – (662) 402-0860; Northwest Mississippi – (662) 721-0865; Southwest Mississippi – (662) 402-0867; Northeast Mississippi – (662) 402-0864; and Southeast Mississippi – (662) 402-0862. All out-of-state freshmen can contact (662) 402-0862. Mississippi junior/community college transfers can contact (662) 402-0861, while other transfer students can contact (662) 402-0864.
For additional information on enrollment or to learn more about the application process, please contact the Office of Admissions and Recruiting at (662) 846-4020.