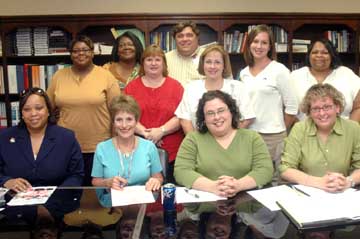 The Breast Cancer Awareness Week Planning Committee meets to discuss final details of the jam-packed, six-day schedule. Seated (l. to r.) Deborah Moore, Barbara Levingston, Meg Jones, Rori Herbison; Second Row (l. to r.) Angela Tate, Anne Beard, JoAnn McCollum, Jana McKellar; Third Row (l. to r.) Mary Williams-Neal, Bob Wilbanks, Alfreda Cowins.
"The statistics are frightening," Rori E. Herbison, Director of University Relations at Delta State University and Chair of the Leaders of Delta Health and Wellness, levied. "One out of eight women will be diagnosed with breast cancer in their lifetime. We are convinced that is just too many. We are equally convinced we can do something about it."
That "something" is education, awareness and early detection, and Delta State University, through its Center for Community and Economic Development (CCED) and Breast Education and Early-detection Program (BEEP), in cooperation with the Leaders of Delta Health and Wellness, has planned a full week of activities beginning Monday, Oct. 1 – Saturday, Oct. 6.
"Our charge for this coming week – Breast Cancer Awareness Week – is to educate and raise awareness. We need women to understand the importance of early detection through monthly self-exams and regular mammograms," Deborah Moore, Director of the CCED, declared. "Our theme for the week is to 'Enlighten Yourself.'"
The week will kick-off Monday, Oct. 1, on the front stairs of the Bologna Performing Arts Center (BPAC) at 10:30 a.m. (In case of rain showers, the kick-off event will be moved inside to the lobby of the BPAC.) The Bolivar County Board of Supervisors has officially declared the week, "Breast Cancer Awareness Week," and a representative will be on hand to read a resolution. Kathryn Livingston Wilson, an affiliate of the Susan G. Komen for the Cure Breast Cancer Foundation will also be in attendance that morning to help commence the event and lend support.
On Tuesday, Oct. 2, Bolivar County municipalities will join in the awareness campaign, as "Paint the Town Pink," begins. Pink ribbons will adorn trees, cooperating businesses will paint their store fronts pink and lapel pink ribbons will be available at all schools.
"We want the entire Bolivar County area to be decked out pink and are asking all businesses to participate in any way possible," Moore continued. "This is all in an effort to raise awareness – we can't say it enough. We want everyone to know the facts and be equipped with the tools and methods to combat this disease."
An invitation-only Professional Women's Breakfast has been planned for Wednesday, Oct. 3. The early-morning occasion is intended to be a fundraising event. "There are women less fortunate in Bolivar County who simply can not afford a mammogram. The idea for our breakfast is to offer other professional women the opportunity to sponsor a mammogram for these women in need," Moore explained.
Another morning event is scheduled for Thursday, Oct. 4 with a Survivors/Healthcare Professionals Panel Discussion set to begin at 9 a.m. inside the Simmons Room of the Alumni-Foundation House on the Delta State campus. The forum, comprised of four breast cancer survivors and three healthcare panelists, will allow attendees to not only hear uplifting stories of survival, but to ask questions on how to safeguard against the disease, including early detection. Delta State First Lady, Pat Hilpert, will moderate the event.
"This event was such a huge success for us last year. It was important to the committee, because of the overwhelming response we had, to plan another panel discussion this year," Herbison said.
Moore reiterated the importance of the panel discussion, noting, "Last year's forum was a huge victory for us on so many levels, not just because of the lives we touched that day, but because that event offered us the opportunity to partner with the Susan G. Komen Foundation."
That partnership allowed for the eventual creation of B.E.E.P. (Breast Education through Early-detection Program). Housed in Delta State's Center for Community and Economic Development, the 12-month, grant-funded program seeks to educate citizens, while also identifying and funding breast examinations and mammograms for the uninsured and underinsured.
"B.E.E.P. is, most assuredly, meeting a need in this community," Moore maintained. "We are hopeful this program will be refunded and continue to make the impact it has."
On Friday, the Breast Cancer Awareness Week activities "get moving," with the BEEP Walk on the Delta State Green Mile trail. Walkers will meet in front of the H.L. Union on campus at 11 a.m. and finish back at the State Room inside the Union.
In conjunction with National Denim Day, walkers are being asked to wear their blue jeans during the walk and donate $5 to fund mammograms for women of Bolivar County. T-shirts, specially designed for Breast Cancer Awareness Week by Delta State graphic design major Kimmie Dickard, will also be on sale throughout the week for $10 for S – XXL, $12 for XXXL – XXXXL.
Organizers of the event have already partnered with Bolivar Medical Center, North Sunflower Medical Center and Sta-Home Health Agency. Employees of all three healthcare facilities will be wearing both the t-shirts and blue jeans to work that Friday, while donating $15 (per employee) to BEEP.
At the culmination of the walk, lunch will be served, free of charge, to the first 300 hundred in attendance. Lenny's Sub Shop of Cleveland will be sponsoring the box lunches.
"We are grateful to all of our sponsors. Events like this simply do not work without the cooperation and dedicated efforts of our many volunteers and sponsors," Herbison said. "We put out a call for assistance, and this community stepped up in a big way. We are truly grateful."
The week's activities will conclude at the Statesmen's home football contest, Saturday, Oct. 6 at 6 p.m. inside Travis E. Parker Field. Fans wearing pink to the ball game will get in free, while all cancer survivors in attendance will be recognized in a special pre-game ceremony.
Following the football game, fans will be treated to a 15-minute firework display, courtesy of Billy Marlow of North Sunflower Medical Center.
"There is certainly a lot on the schedule, and it's a lot to take in, but we encourage the community to participate in whatever way they can," Moore added. "There really is something for everyone."
For more information, please contact Delta State's Center for Community and Economic Development at (662) 846-4784 or University Relations at (662) 846-4675.