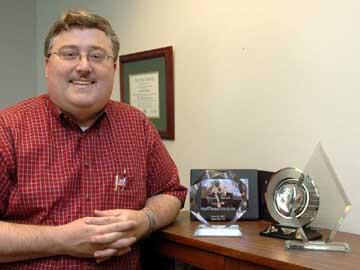 Delta State University Interim Dean of the College of Business Billy Morehead was recently presented three awards from the Association of Government Accountants (AGA).
Morehead received the Educator Award from the Washington, D.C. Chapter of the AGA at the organization's 50th Anniversary Gala held recently at the Grand Hyatt Washington at Washington Center. He was presented the award for the numerous training sessions he has conducted for the Alabama Society of CPAs, the Mississippi Society of CPAs, numerous AGA Chapters and Regions and at the first AGA National Internal Audit and Fraud Conference in 2006. His presentations have covered states in the Southeast, Midwest and Southwest.
He reaped two additional awards at the AGA's 56th Annual Professional Development Conference and Exposition held most recently in Nashville, Tenn. The first of these two national awards was presented for Morehead's outstanding leadership as chair of the AGA International Development Committee and as chair of the Committee's task force charged with researching the opportunities for AGA to provide leadership in advancing government accountability around the globe. Morehead also received the National Educator Award for his exceptional contributions to advancing government financial management education and his tremendous support of the AGA.
Morehead graduated with honors in 1984 from Delta State, receiving a bachelor's degree in Accounting. He would later receive his master's degree in Accountancy from Millsaps College in 1995. He is currently a candidate for his Ph.D. in International Development at the University of Southern Mississippi where his research interest has focused on fraud, corruption and internal controls in non-governmental organizations.
Morehead has taught Governmental and Not-for-Profit Accounting, Graduate Auditing, and Graduate Accounting Theory at Delta State University since 2000. In addition, from October 2001 to January 2007, he also served as Delta State's Vice President for Finance. He was appointed Interim Dean of the College of Business in July.
An active member of AGA for over 20 years, Morehead has served as national treasurer and senior vice president, as well as other positions. He is a member of the Jackson, Miss. Chapter. He has been a Certified Government Financial Manager (CGFM) since 1994.

AGA is a national organization of about 14,000 members which supports the careers and professional development of government finance professionals working in federal, state and local governments as well as the private sector and academia.
Commenting on his awards, Morehead said, "It is a tremendous honor to be recognized by my peers and colleagues. It was a real honor going to D.C and receiving the award at the 50th Anniversary black tie gala, and it was an equally special honor to be recognized by the national organization in Nashville."
Asked why he decided to leave his position as Vice President of Finance to return to the classroom, Morehead repeated the answer he said he gave Delta State President John Hilpert, "I enjoy the classroom and working directly with the students; and I've been a CFO (Chief Financial Officer) for 17 years. It's now time to influence the next generations of CFOs."