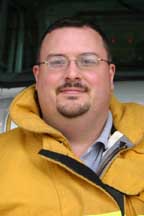 Talbot Brooks, director of the Center for Interdisciplinary Geospatial Information Technologies at Delta State University, was recognized in the May 2007 issue of "GPS World"in a feature article entitled "50+ Leaders to Watch."
"GPS World
"
magazine has covered the global positioning industry since 1998, and launched an internet version in 2005.
The magazine
bills itself as an information distribution publication for the broad and rapidly growing world of information created by the global positioning industry.
Commenting on the recognition, Brooks said
,
"It's nice to be recognized, but it's also recognition for the folks that work here at the Center and for Delta State University, more than personal recognition."
It was the role Brooks played in August of 2005, as Hurricane Katrina approached and then smashed the Mississippi Gulf Coast, that made him realize the real "need for better integration among GPS technologies and printed maps, particularly when coordinating search-and-rescue activities," as stated by
"
GPS World." The magazine went on to predict: "Look for Brooks to work with several GPS manufacturers to integrate disaster mapping standards such as the U.S. National Grid, intelligent GIS data collection, and emergency responder accountability with GPS technologies."
Brooks is well on his way to fulfilling the statement of prediction made by
"
GPS World."
On August 23, the U.S. Geological Survey presented Delta State's Center for Interdisciplinary Geospatial Information Technologies a significant assistance award to support the effort to create and implement the U.S. National Grid (USNG).
The USNG will create a new mapping method that will allow the use of paper maps with a grid system to be used with GPS, a satellite navigation system that uses information from orbiting satellites. The USNG will allow navigation regardless of conditions and also provide a common language for the navigators. The USNG is tremendously useful for disaster/emergency management.
Brooks was named director of the Center for Interdisciplinary Geospatial Information Technologies at Delta State in January 2005.
The mission of the Center is to provide geospatial services, accessible education and training, and institutional knowledge for geospatial information technologies to the widest possible audience, and particularly, the mid-Delta region.
For more information on Delta State's Center for Interdisciplinary Geospatial Information Technologies
, please
contact the Center at (662) 846-4520.