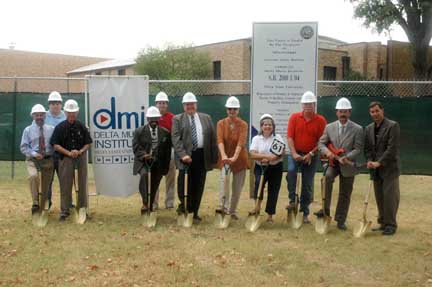 A groundbreaking ceremony was held to officially mark the beginning of construction that will transform Delta State's Whitfield Gymnasium into a state-of-the-art recording studio. Pictured are: (from left) Dick David, architect; Martin Smith of David Smith Construction; A.C. Prewitt, representing the Delta State Physical Plant; Delta State Interim Vice President of Academic Affairs & Provost, Dr. Billy Moore; Brady Smith of David Smith Construction; Delta State President, Dr. John Hilpert; Delta State's First Lady, Pat Hilpert; Delta Music Institute Director, Tricia Walker; David Smith of David Smith Construction; Delta State Dean of Arts and Sciences, Collier Parker; and Delta State Executive Director of Alumni-Foundation, Keith Fulcher.
Members of Delta State's administration, faculty and staff took golden shovels in hand and donned hard hats Wednesday afternoon to celebrate the groundbreaking for the Delta Music Institute Recording Studios on the campus of Delta State University. The studios, which will be the centerpiece of the Delta Music Institute program, will be constructed inside of the old Whitfield Gymnasium. Completion of the project is set for the spring of 2008.
Dr. John M. Hilpert, President of Delta State, offered, "These studios, housed in this historic building, will give our students an opportunity to apply their audio recording skills under the supervision of DMI faculty in a unique facility. The Delta Music Institute program also fits in nicely with our overall academic program."
The design for the studios was drawn by veteran engineer/producer Norbert Putnam, and will consist of two main recording spaces. Studio A will serve as an orchestral studio, able to accommodate symphony orchestras, concert bands, mass choirs, and other large ensembles while Studio B will serve the recording needs of smaller ensembles or solo performers. There will also be a Studio C, which will serve as a small project lab.
DMI Director Tricia Walker indicated the studios would also serve the community, region and state. "Our plan is to open the studios up for all types of recording projects. This will give our students the opportunity to work in real-life recording sessions and will give musicians and performers an opportunity to record in a world-class facility at a fraction of the cost of a commercial studio."
The Delta Music Institute is a first step towards a broad program in Media Arts Production. It began with a generous donation by Fred Carl of the Viking Range Co
rporation
in 2003. The focus of the DMI is to provide students with a broad and thorough education in the technological, business, and creative areas of the music industry.