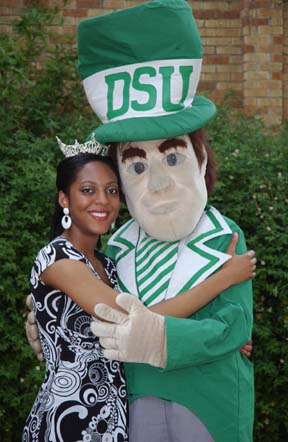 Miss Delta State University Coriss Watson will be competing for the crown at the upcoming Miss Mississippi Pageant, July 10-12 and Saturday, July 14, and you can help her win.
The Miss Mississippi Corporation has recently announced its viewer's choice contest, an exclusive text messaging competition presented by wireless sponsor Cellular South. The Cellular South Viewer's Choice Scholarship winner, to be determined by a tally of total votes text messaged to Cellular South, will receive a $5,000 scholarship, among other prizes.


The Miss Mississippi unlimited text messaging contest is managed by Cellular South as a separate program that has no bearing on official judging of the Miss Mississippi pageant and no relationship to the winner or finalists in the Miss Mississippi pageant competition.

Voting opened at 8 a.m. on Sunday, July 8 and ends at 9 p.m. on Saturday, July 14, the evening of the pageant finals. Votes can be cast by Cellular South text messaging customers at any time during the voting period. Voting opportunities also will be available to any pageant attendees on-site each evening of the competition through Cellular South wireless phones to be set up in the lobby of the Vicksburg Convention Center.
The winner of the Cellular South Viewer's Choice $5,000 Scholarship will be announced Saturday during the live broadcast of the pageant, just prior to the announcement and crowning of the new Miss Mississippi. The viewer's choice winner also will receive a free wireless phone and one year of free service from Cellular South.
Cellular South text messaging customers and anyone on-site during the pageant competition can cast an unlimited number of votes for one or more pageant contestants by sending the contestant's assigned number in a text message to "MISS" (6477). Numbers – from 1 to 42 – are assigned to the contestants according to their respective local pageant title.
Watson, who earned the Miss Delta State University crown in late February, has been assigned No. 13. A Grenada native, Watson is a sophomore music education major. For her talent, she played "Prelude in G Minor" by Fredric Chopin, on piano. In addition to the crown, she was also awarded the Career Services Interview Award.
The Miss Mississippi Pageant will broadcast live from the Vicksburg Convention Center. For more information or for ticket information, please contact (601) 638-6746.