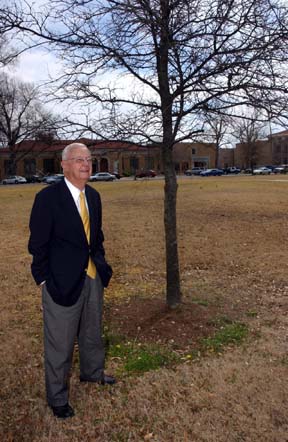 Charlie Capps, Jr. poses in front of tree dedicated in his honor in 2003. This Friday, members of the American Legion, National Guard and VFW will unveil a marker for that tree on the campus of Delta State University. The ceremony is open to the public and will begin at 10 a.m.
Delta State University will play host to a special ceremony Friday, July 27 at 10 a.m. on the quadrangle of the campus, as members of the National Guard, Veterans of Foreign Wars (VFW) and American Legion honor long-time Mississippi legislator, Charlie Capps, Jr.
The group will unveil a marker for the tree dedicated to Representative Capps in July 2003.
Capps, whose legislative career spanned four decades, retired from the Legislature in 2005. He was elected in 1971 and served as chair of the House Appropriations Committee for 16 years (1988-2003). A former sheriff, Capps also chaired the House Constitution Committee.
Delta State President, Dr. John M. Hilpert, commented at "Charlie Capps Day" in 2005, "Delta State has had no greater friend in the House of Representative
s than Charlie Capps. A true 'Statesman,' Mr. Capps always had the best interest of this University and the Mississippi Delta in mind."
The ceremony is free and open to public. For more information, please call University Relations at (662) 846-4675.