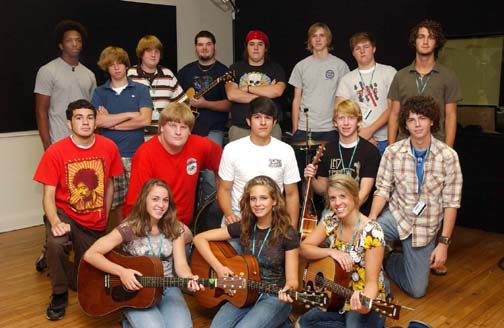 1st Row L to R: Mary Mac Drake, Sarah Ann Boddie, Neal Ann Parker

.

2nd Row L to R: Andrew Geraci, Clarke Carter, Madison Dixon, Cody Roth, Matthew McCain

. 3rd Row L to R

: Galen Reeves-Darby, Perry Hammett, Aaron Sassenrath-Cole

, Jonathan Upp, Michael Mattox, Steve Stringer, Martin Powell, Steven Ross.
Students attending the Delta Music Institute Summer Camp on the campus of Delta State University will be showcasing their musical talents in a concert at the Bologna Performing Arts Center on Saturday, July 21, at 7 p.m.
The concert, which will feature familiar hits from the '60s and '70s, along with original songs written by the campers, is free and open to the public.
Fifteen campers from around the state have spent the week learning the ins and outs of commercial music in three different areas of instruction. Students attending the camp have studied audio engineering, performance band, or a singer/songwriter track in an interactive setting with the culmination being the live concert along with a studio recording.
The DMI Summer Camp performance band is under the direction of studio drummer/producer Vince Barranco, assisted by DMI instructor Barry Bays. Nashville recording studio owner/engineer Vaughn Skow has overseen the recording project, assisted by DMI faculty member Mark Snyder, and DMI Director Tricia Walker has offered direction to the singer/songwriter students. Grammy award winning artist Linda Davis offered stage performance coaching to the aspiring musical artists.
This is the inaugural year of the DMI Summer Camp and it is the newest addition to the Janice Wyatt Mississippi Summer Arts Institute program.
The Delta Music Institute is a first step towards a broad program in Media Arts Production. It began with a generous donation by Fred Carl of the Viking Range Company in 2003. The focus of the DMI is to provide students with a broad and thorough education in the technological, business, and creative areas of the music industry.