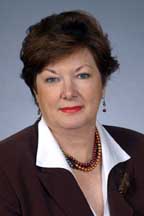 By definition, to lead is to show the way to by going in advance; to guide or direct in a course. And with her commitment to community and economic development in the Delta that is exactly what Dr. Myrtis Tabb has established herself as – a leader.
The Women in Higher Education Mississippi Network (WHEMN) recently recognized that fact, as it presented Tabb with the second annual WHEMN "Leadership Award."
Senior Administrator for Special Projects at Delta State, Tabb was presented the award at a recent spring conference in Columbus.
The statewide organization established the award to recognize a woman who has demonstrated leadership and a commitment to promoting initiatives that identify, develop, encourage, mentor and advance women in higher education. Last year's inaugural winner Gloria Kellum, Vice Chancellor for University Relations at the University of Mississippi, presented Tabb with this year's award.
"I am deeply honored to receive the WHEMN Leadership Award, especially considering the fact that Gloria Kellum, a woman leader I admire tremendously, was the award recipient last year. I have enjoyed my association with all of the women leaders who are part of the WHEMN network and express my gratitude for this recognition," said Tabb, immediate past coordinator of WHEMN.
WHEMN is comprised of institutional representatives from each of the state's junior and senior colleges and universities. Its founding resulted from a request to UM Chancellor Robert Khayat from the American Council on Education in 2002, asking him to help establish the statewide network. Khayat appealed to Kellum and Beverly Hogan, president of Tougaloo College, to lead the effort.
"There were 13 outstanding Mississippians nominated by college and university presidents this year for consideration for this award," Kellum said. "We are proud of Dr. Tabb and her service to Delta State University and the entire Delta region."
Tabb has served as the B. F. Smith Chair for Regional Development, Director of the Center for Community Development at DSU and Program Leader of the Mid-South Delta Leaders and Delta Emerging Leaders Program. Her interests are concentrated in the field of economic and community development, with special emphasis on human development, leadership and education. She holds bachelor's, master's and doctoral degrees in education. She has devoted her career to providing opportunities for others to develop leadership skills.