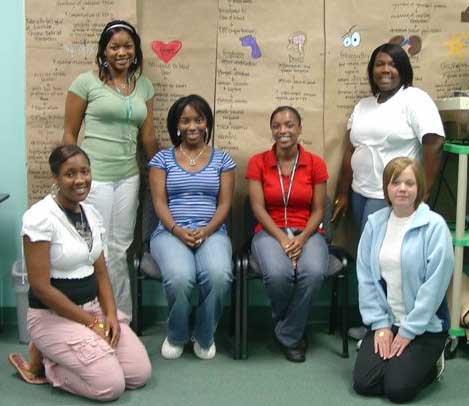 Delta State University's School of Nursing 2007 K-NEC Knowledge for Nursing Enrichment Camp. Participants included: (l. to r.) Front Row: Angelica Williams, Panther Burn; Kristina Robinson, Cleveland; Second Row: X'Zanthea Plunkett, Yazoo City; Joylyn Smith, Nesbit; Nakia Kimble, Coffeeville; and Angela Robinson; Mount Bayou.
Delta State University's School of Nursing recently hosted its 2007 Knowledge for Nursing Enrichment (K-NEC) camp on the campus.
Participants were provided various methods and tips for success in their college experience with the ultimate goal of success in Nursing School. They participated in activities on time management, study skills, test taking tips, organization techniques and stress management.
They were also provided instruction in CPR, first aid and general nursing skills such as vital signs. Campers also took field trips to the Delta Blues Museum and Ground Zero in Clarksdale, North Sunflower Hospital in Ruleville and Bolivar Medical Center in Cleveland, during which time they shadowed a BMC nurse.
The camp participants also completed a service project in which they provided toys and activity items to the pediatric unit at Bolivar Medical Center. In addition, they researched, completed and presented a poster and presentation on an assigned disease. The project challenged the students to use the internet, e-mail, word processing, PowerPoint, save to a jump drive and burn to a CD – all valuable skills in their college preparedness.