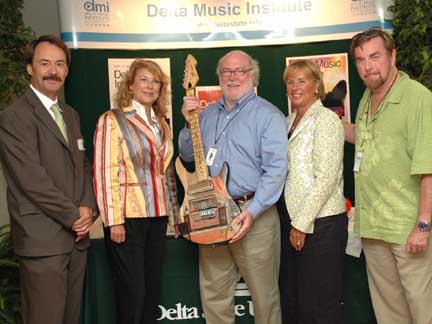 Viking Range Corporation's founder Fred Carl (center) holds a vintage Peavey electric guitar with a Viking Range scene painted on the front. The instrument was hand painted with oils by Delta State University Dean of the College of Arts & Sciences Collier Parker (at left). Pictured are: (from left) Parker, Mrs. Mary Peavey, Fred Carl, Margaret Carl, and Hartley Peavey, founder and CEO of Peavey, one of the largest, most diversified, independently owned suppliers of musical instruments and professional sound equipment in the world.

The Carls and Peaveys were special guests at Delta State's Delta Music Institute Preview Party and Luncheon. The preview party was held to show how the old Whitfield Gymnasium will look once transformed into two state-of-the-art recording studios. Construction is scheduled to begin in August 2007. The Delta Music Institute is a first step towards a broad program in media arts production. It was launched with a generous donation by Fred Carl in 2003.
The Delta Music Institute (DMI) is a center for recording arts and music industry studies at Delta State University, one of eight state-supported institutions of higher learning in Mississippi. The focus of the DMI is to provide students with a broad and thorough education in the technological, business, and creative areas of the music and recording industry.