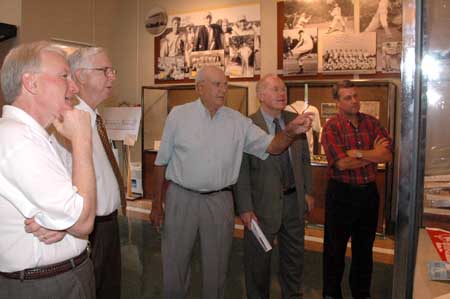 Coach Dave "Boo" Ferriss (center) gives detailed information about items on display in The Dave "Boo" Ferriss Museum to (from left) Weldon Aultman, president of Planters Bank of Indianola; Gene Van Cleve of Indianola's Van Cleve Insurance Agency; Frank Crosthwait, attorney of Indianola (4th from left); and Mark Hargett, president of Planters Bank of Cleveland (at right). Also attending were Vernon Beard of Indianola and Bubba Ely of Shaw.
As part of the recent Cellular South Ferriss Trophy presentation held in Cleveland, Delta State sponsored a drawing for all those purchasing tickets to the event. Three winners were selected at random, with each winning a guided tour of the Dave "Boo" Ferriss Museum by the legendary coach, himself. Jimmy Clayton of Indianola was the announced winner of this tour, but flight delays prevented his attendance.
Winners
were able to i
nvite five other people to join them for the tour and lunch, which was also included. Other winners include Mark Hamlin of Jackson and Eddie Joe Alias of Yazoo City.
On the campus of Delta State, "Inning by Inning: A Life in Baseball" chronicles Ferriss' illustrious career from his early days at Shaw High School, to a young man at Mississippi State, to the height of his career with the Boston Red Sox, to his days at the helm of the Delta State baseball program.
The Dave "Boo" Ferriss Museum is housed in the Crawford Center located at the entrance of Ferriss Field, home of the Delta State baseball team.