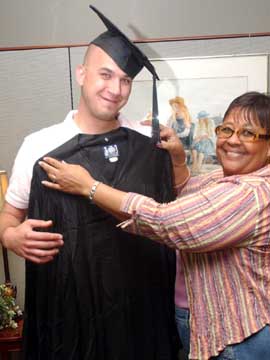 Daniel Hawthorne (at left), a graduating senior of Columbus, is fitted for his graduation gown by Hazel Hilley-Carter, Delta State's Registrar's transcript clerk.
Delta State University is preparing to graduate one of its largest classes in the history of the University this Saturday, May 12, as over 540 students will collect degrees as part of the 80th Spring Commencement service. Scheduled for 10 a.m. inside Walter Sillers Coliseum on campus, the University will also be awarding honorary degrees to two leaders in the field of higher education – Dr. James (Jim) T. Rogers and Dr. Patricia (Patsy) A. Thrash.
Dr. Belle Wheelan, current President of the Commission on Colleges of the Southern Association of Colleges and Schools, will deliver the keynote address.
Every graduate will be issued six tickets for family and friends, and tickets are required for entry. Any audience overflow will be accommodated in the Jacobs Conference Center in Ewing Hall on campus, where family and friends will be able to view the ceremony on a projection screen.