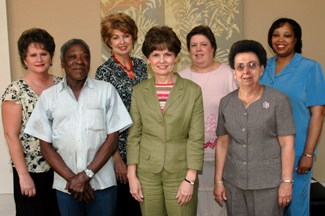 In an initiative geared to recognizing individual staff memberswho have made outstanding contributions to the university, their colleagues or the university's relations with communities in the region, the Delta State University Foundation funded "Awards for Staff Excellence in Service" this year. The University announced the award's inaugural winners today, with Patsy Burchfield, Jessie Eatmon, Becky Foster, Ann Giger, Judy Godbold, Deborah Moore and Jane Waldrop all earning honors.
Delta State President, Dr. John M. Hilpert, explained, "
The purpose of these awards is to encourage and recognize the outstanding achievements of our staff at Delta State. We are appreciative to the Foundation for supporting the awards."
Award winners will each receive a $3,000 cash prize, as well as a commemorative plaque which will be presented at the Foundation Board's spring meeting. The awards are separated into three categories with up to three winners in each category – Service to the University, Service to University Colleagues and Service to the Community. Winners were selected by a representative committee, appointed by the Vice President of Finance and Administration with advice from the Administrative Staff Council and the President's Cabinet.
Honored in the category of "Service to University Colleagues," Patsy Burchfield
, Administrative Assistant for the Provost/Vice President for Academic affairs, has worked for Delta State 19 years. She and her husband, Mike Burchfield have two sons – John and Jay – both DSU graduates. A native of French Camp, Patsy graduated from French Camp Academy before going on to Mississippi State University to receive her undergraduate degree.
On being named an inaugural winner of a Foundation Award for Staff Excellence in Service, she said, "In my work at Delta State University, I take great pride in building working relationships that promote an environment of trust, support, and assistance to colleagues. This a great honor and I am so humbled."
Recognized in the category of "Service to the University," Jessie Eatmon has served the past eight years as the
Assistant Supervisor over Grounds in the Physical Plant. Always willing to assist others and "go the extra mile," Eatmon offered, ""I enjoy it here at Delta State and I try to do the best I can everyday. I try to make it a good place for my co-workers and those who work under me.

"I have much respect for the students and they respect me," he continued. "When I see them moving in or out of the dorms each semester, I try to help them with the heavy things – no telling how many televisions I've moved in and out of dorms. Those kids remember me and they wave when they see me around campus later. I've boosted cars, changed tires – just anything they need help with. I just do it. Nobody tells me to, I just do it when I see they need the help."
Judy Godbold was honored for her "Service to the University." As
Coordinator of Commencement and Assistant to the Registrar, Godbold is instrumental in seeing to it each fall and spring commencement exercise is as fluid and successful as possible. She has worked at Delta State for 25 years, serving in the areas of Management and Marketing as departmental secretary; Academic Affairs as Publications Secretary; and Administrative Assistant to the Dean of Arts and Sciences prior to her current position. She and her husband of almost 30 years, Bob, also a Delta State alumnus, have two children – a daughter, Ryanne Elise, who is also married to a DSU alum, Kristopher K. Strait; and a son, Russell Ethan, a seventh grader at Bayou Academy.
Of her award, Godbold proudly declared, "I am so excited and honored to be nominated by my co-workers and selected for the Foundation Award for Staff Excellence. I love Delta State University and have enjoyed my more than 25 years of service here."
A native of Gadsen, Ala., Ann Giger can always be counted on to lend a hand. Her countless hours of volunteer work earned her a Foundation prize in the category of "Service to the Community." An Administrative Secretary for the Delta State Foundation, Giger has a combined 17 years of service to the University. She is the proud grandmother of three grandsons – Jared, Brett and Jason. She and her husband, Dennis, have two grown sons – Chris, married to Lisa; and Daniel, married to Elizabeth.
"
What an honor to receive one of the DSU Foundation Awards for Staff Excellence in Service when there are so many deserving and dedicated people at DSU," she said. "In a time when so many universities and businesses are consumed with numbers, I can honestly say Delta State University still concentrates on their faculty, staff and students along with emphasis on family atmosphere."
Recognized in the category of "Service to University Colleagues," Becky Foster has been with Delta State since 1981. She has worked under three Vice Presidents for Finance in various positions, including her current role as Director of Accounting. A Cleveland native, she was educated in the Cleveland school system and received her bachelor's of business administration in accounting from Delta State in 1971. She has two sons – Porter, a Delta State grad, and Michael.
"I am so honored to be one of the recipients of this award for service to the University. Delta State not only educated me and my family, but has been my home for most of my life, nurturing me through all its highs and lows. I am proud to be able to give back to 'my' university," Forster explained.
Honored for her "Service to the Community," Deborah Moore graduated from Delta State University with a
bachelor's of business administration
degree and a master's of business administration degree. She began work with the University's Center for Community and Economic Development in 1998, eventually elevating to the rank of director in 2005. In her role as director, she assists grass-root communities by developing projects and programs to strengthen communities.
The wife of Dr. Billy C. Moore, interim Provost at Delta State, the couple has two daughters – Andrea, 25, and Alicia, 18. She is currently pursuing certification as an Economic Development Finance Professional from the National Economic Development Council and will enroll in a PhD. program this fall at the University of Southern Mississippi in Human Capital Development.
"The best part of this job is not only being able to work for Delta State University, but having the opportunity to serve the community as well. Satisfaction at the end of the day comes from knowing communities are being empowered to become self-sustainable," Moore offered of her honor.
Jane Waldrup has been a valued member of the Delta State community for the past 25 years, having served in the Roberts-LaForge Library. Her current post is Head of the Circulation Department. She was nominated for the award by Jeff Slagell, Director of Library Services, in the category of "Service to the University."
In his nomination form, Slagell praised,
"
I have interacted with hundreds of library staff members throughout my professional career and I have never met a more dedicated or responsible individual than Ms. Jane Waldrup."
He continued, "I have repeatedly witnessed Ms. Waldrup come into the library after her normal working hours and weekends to assist her staff, provide additional service, and check on the facility. On several occasions, she has taken the lead in directing and informing library patrons in times of emergency (i.e., fire alarms, severe weather situations).
"She provides a high level of customer service resulting in positive feedback from students, staff, faculty, and community members. Typical comments focus upon her willingness to go above and beyond the normal call to ensure their needs are met. I can't imagine a more qualified or deserving candidate," he concluded.
Nomination calls for the 2008 Foundation Staff Awards for Staff Excellence in Service will go out in early fall. Nominations can be made by employees, students, alumni, community members or the individual, themselves.
For more information on the awards or process, please call University Relations at (662) 846-4675.