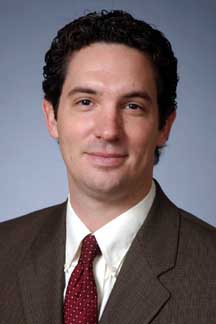 Jeremy McClain
Delta State University and Dr. Rose Strahan, Chair of the Athletic Director Search Committee, announced Friday that Jeremy McClain, Director of Development with the Delta State University Foundation, has been designated as the "recommended finalist" for the position of Director of Athletics. The announcement comes after a series of on-site interviews with two finalists earlier in the week.
Dr. John Hilpert commented, "I appreciate the work of the Search Committee. They have done an outstanding job of finding good candidates for the position. They are to be commended for their time and devotion to this process."
Dr. Strahan said "The committee felt it had an adequate pool of candidates and were diligent in their work during this process. The committee interviewed several candidates by phone and two in person. On Wednesday, the two on-site candidates interviewed with the search committee, the Delta State President's Cabinet and members of the Delta State athletic department." The Search Committee is made up of representatives from the faculty, staff, students, academic administration, athletic department, alumni association, DSU Foundation, and the community.
McClain has served in his current role as Director of Development since November, but he has ties to the Delta State community that extend to the early 1990's. He received both his bachelor's degree and master's degree in business administration from DSU. The Houlka native was also an All-American pitcher for the Statesmen baseball program from 1996-99. He still holds the school record for career victories with 45.
The Athletic Director Search Committee's intent is to open the process further and have the recommended finalist meet with members of the campus and the community. Thus, an open meeting with faculty, staff, and students will be held on Monday, April 16 at 3 p.m. in the Jacob Conference Center located on the first floor of the James Ewing Building on the Delta State campus. All members of the DSU community are invited and encouraged to participate in this open meeting.
On Tuesday, April 17 at 4 p.m., McClain will meet with interested residents of the community at the Cleveland-Bolivar County Chamber of Commerce. All residents of the community are invited and encouraged to participate in this open meeting.
At the conclusion of each session, participants will have an opportunity to give feedback to members of the Search Committee.