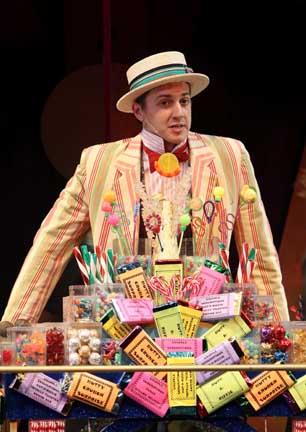 Tuesday, March 27th @ 7:30 p.m. at the Bologna Performing Arts Center the search for a Golden Ticket is on! In this fun-filled, musical based on Roald Dahl's beloved children's novel, a sweet-natured boy named Charlie Bucket and four other Golden Ticket winners get the tour of a lifetime in a mysterious candy-maker's fantastical factory! Willy Wonka and his band of Oompa Loompas lead Charlie, the spoiled-rotten Veruca Salt, gluttonous Augustus Gloop, gum-chewing Violet Beauregarde, and television junkie Mike Teavee through a labyrinth of lemon drops, life lessons, and giggles galore.


"Charlie and the Chocolate Factory" is the title of the Dahl novel that began the movie; in film and book, Charlie is the poor but deserving boy who wins one of five golden tickets to visit Wonka's closely guarded factory. This stage adaptation by Leslie Bricusse (who wrote the songs with Anthony Newley) and Tim McDonald sticks to the basic story but injects an odd note of pluck. "Think positive" becomes the Bucket family mantra, and in a ballad sung when Charlie gets implausibly low, he's advised, "Just be glad you're you."
Featuring live actors, puppets, plenty of surprises, and many memorable songs—including "The Candy Man," "I Want It Now!", and "Pure Imagination"—Roald Dahl's Willy Wonka is a scrumptious musical theater treat for the entire family. Do you have your golden ticket?
Tickets are $10.00 for all ages. Contact the Box office @ 662-846-4626 or purchase your tickets online by visiting www.bolognapac.com and clicking on Tickets.