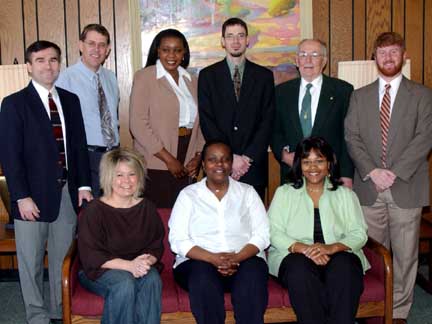 Front Row: Mary Kathryn Wooten, Michelle Wallace, and Chandra Hines, Hearin Fellows; Back Row: Dr. Albert B. Nylander III, Chair Division of Social Sciences; Dr. Alan Barton, Assistant Professor of Sociology & Community Development; Dr. Paulette Meikle-Yaw, Assistant Professor of Sociology & Community Development; Dr. John Green, Graduate Coordinator of Community Development; Dr. Jerry W. Robinson, Distinguished Professor of Rural Sociology; and Eric Atchison, Hearin Fellow.
Today was a good day for Delta State University's community development program, as the curriculum's financial future for the next three years was secured in the form of a $300,000 grant through the Robert M. Hearin Support Foundation of Jackson.
First established in 1995, Delta State's Master of Science in Community Development (MSCD) was created by the Division of Social Sciences, in collaboration with Delta State's Center for Community and Economic Development.
The goals of these two units are to address critical social, community and economic development issues in the Mississippi Delta by graduating students who can integrate theory with practice in the region. The MSCD curriculum prepares graduates for successful careers as professional practitioners in private and public sector organizations.
Having already graduated 66 students, Delta State's MSCD program is quickly gaining respect and recognition as one of the premier programs in the country. To its credit, Delta State was selected as the first site in the nation for a "Graduate Student Honor Society in Community Development."
Of the recent grant and its role in the success of MSCD, Dr. Albert Nylander, Chair of the Division of Social Sciences at Delta State, explained, "This generous grant provides Delta State with $80,000 per year for Hearin Fellowships for at least five outstanding graduate students, who will undertake full-time study in the MSCD program.
"The remaining funds will be used to: (1) develop a marketing and recruitment program that targets outstanding graduate students; (2) support the work of Hearin Fellows in field placement internships; (3) provide partial support for expenses Fellows occur in applied thesis research; (4) support the participation of Hearin Fellows in professional meetings which will enrich their educational experiences; and (5) help support marketing efforts to place MSCD graduates in Mississippi," Nylander continued.
He further contended, "Since 1998, total funding from the Hearin Foundation and other sources for MSCD fellowships has totaled over a million dollars. Dr. Jerry Robinson, Jr., Distinguished Professor of Rural Sociology, has led the effort to help receive this outside funding. Our students and faculty are grateful for these resources."
Each Hearin Fellow receives a monthly stipend. Tuition, books, fees and medical insurance are also covered under the program. Interested students must have a bachelor's degree in a discipline related to community development and a minimum grade point average of 3.25.
Priority in the selection process will be given to those students in need, as well as those students who will live and work in Mississippi after earning the MSCD.
Currently, more than 80 percent of MSCD graduates remain in Mississippi, most specifically the Mississippi Delta Region. Examples of places in Mississippi where Hearin Fellows are employed include: Mississippi Health Policy Research Center at Mississippi State University; Director of Injury and Violence Prevention in the Office of Preventive Health, Mississippi Department of Health and the North Mississippi Regional and Planning and Development District; Rural Development, USDA. Four more recent Fellows have been employed as Program Associates in Delta State's Center for Community and Economic Development, while several are employed in the private sector.
Three recent Hearin Fellows are enrolled in doctoral programs in sociology: one at the University of Missouri, one at Mississippi State University, and a third at Brigham Young University.
For more information about the Hearin Fellowships, please contact Dr. Albert Nylander, Chair, Social Sciences, at P.O. Box 3264, Delta State University, Cleveland, MS 38733; or (662) 846-4065, or e-mail nylander@deltastate.edu.