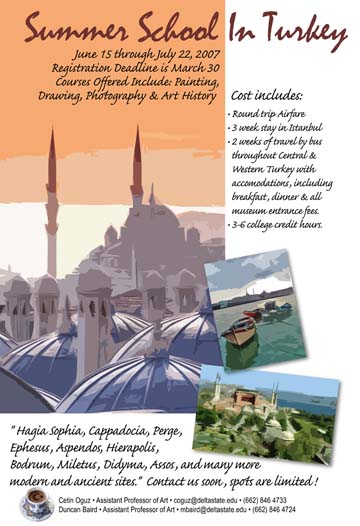 Pope Benedict XVI just visited-why not you?
The Delta State University art department will be sponsoring an over month-long trip to Turkey, June 15-July 22.
A nation of two continents, where Asia and Europe meet, Turkey is one of the most fascinating places in the world. During this trip, Istanbul, a 3,000 year old city, will be the primary focus. Western and central parts of Turkey will also be toured over the last two weeks.
Participants will see the house of Virgin Mary, the ancient city of Ephesus where disciple Paul once preached, and the Hagia Sophia, which is currently being considered as one of the next Seven Wonders of the World.
Students will be taught drawing, painting, photography, history or art history. All students who want to visit one of the most ancient and beautiful cities in the world are encouraged to consider this once-in-a-lifetime trip. Not only will it be the most memorable trip you take, but you will also earn college credit. Community members are also invited to participate.
Registration deadline for classes is March 30, 2007.
For more information, please contact Cetin Oguz in the art department at (662) 846-4733 or coguz@deltastate.edu or Duncan Baird at (662) 846-4724 or mbaird@deltastate.edu.