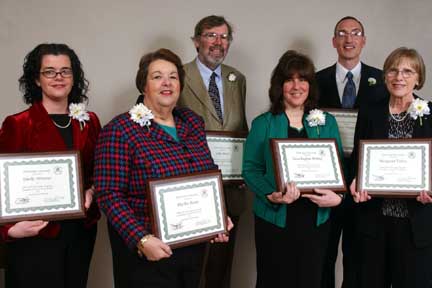 The Foundation's 2007 Excellence in Teaching, Research and Service Faculty Prize honorees (l. to r.): Emily Weaver (Service); Phyllis Bunn (Teaching); John Ford (Research); Nina Baghai-Riding (Research); Clifton Wingard (Teaching) and Margaret Tullos (Service).
In its continued effort to recognize the dedicated and professional faculty at Delta State University, the Foundation announced the 2007 recipients of the Excellence in Teaching, Research and Service Faculty Prizes today in the State Room of the H.L. Nowell Union on campus.
Dr. Phyllis Bunn, professor of office administration; and Dr. Clifton Wingard, associate professor of mathematics were honored with the Excellence in Teaching Prize. John Ford, assistant professor of English, and Dr. Nina Baghai-Riding, associate professor of Biology and Environmental Science, were honored with the Excellence in Research Prize; while Margaret Tullos, professor of Social Work; and Emily Weaver, university archivist and assistant professor of library services were honored with the Excellence in Service Prize.
After a lengthy and rigorous application process, winners were selected by a committee, with award recipients receiving a plaque, a clock and $5000 check honoring their accomplishments.
During the luncheon award ceremony, Delta State President Dr. John M. Hilpert offered, "Today is always a highlight of the academic year. Today is an opportunity to recognize the faculty for the key role, the critical role they play at this university. I congratulate Phyllis, Clifton, John, Nina, Margaret and Emily on their accomplishments. They are a great example. I also thank the Foundation for its continued support and vision."
Keith Fulcher, Executive Director of the Delta State University Alumni-Foundation, concurred, "The Delta State University Foundation Board of Directors are pleased to partner with the University in recognizing faculty members who are dedicated to their profession and who excel in the areas of teaching, service, and research. The Foundation's mission is to help provide private support to the University and the Board commends Dr. Hilpert and Dr. (John) Thornell for their decision to honor outstanding faculty."
Excellence in Teaching

Dr. Phyllis Bunn, who has been at Delta State since 1995, has taught a variety of classes within the field of office administration. An advocate of practical knowledge, her courses always deliver ample opportunity for students to experience real-world business environments. She came to Delta State after working on research with the Institute for Educational Research at the University of Jyvaskyla in Finland and the Delta Pi Epsilon National Research Conference in Philadelphia, Penn. During her tenure with Delta State, Bunn has worked on many committees and councils, including the University's Graduate School Council, Doctoral Admissions Council and the Academic Achievement Committee.
"It certainly is an honor to receive the 2007 Teaching Prize and I am glad to share this honor with Clifton Wingard," Bunn acknowledged. "It has been gratifying to teach here at Delta State University, where I have been afforded the opportunity to teach in an environment that is very supportive of me in every way – teaching, research and service."
In his 11th year at Delta State, Dr. Clifton Wingard has had the opportunity to teach a wide variety of courses from introductory level courses such as intermediate algebra, college algebra and business calculus to senior level courses such as modern algebra and number theory. He hopes to instill in all of his students an appreciation for mathematics as a discipline. A published author in numerous mathematics journals, Wingard is active with many professional organizations, including the Mathematical Association of America. In addition to teaching, Wingard has also served on several campus committees, including, the Curriculum Committee, the Graduate Committee and the Library Committee.
"I am honored to be selected by the committee as a recipient of one of the faculty prizes for teaching," Wingard stated. "As I consider my colleagues in various disciplines across campus, I realize how many fine, dedicated teachers there are at Delta State. Many of these teachers have been an inspiration to me in my own teaching efforts both in and out of the classroom, and I owe a debt of gratitude to my teachers and my colleagues."
Excellence in Research
John Ford, who has been teaching at Delta state since 1983, has published a variety of articles, essay reviews and a book—all on the works of Shakespeare. The book, entitled "Twelfth Night: A Guide to the Play" was published in 2006. Ford has another book, "A Midsummer Night's Dream," which is on contract to be published. Ford works as the Book Review Editor for Shakespeare Yearbook and is on the advisory board for The Upstart Crow: A Shakespeare Journal.
"I am very much honored and grateful at being awarded a Faculty Prize for Research," Ford said. "I am a passionate believer in the inter-animation of teaching and research. I think I am a better teacher for the research I do; and I believe I am a better scholar for the discoveries my students help me realize in the classroom."
Dr. Nina Baghai-Riding, who has been teaching at Delta State since 1999, has taught 11 different science courses, helped develop exhibits for the DSU Natural History Museum and enhanced the Delta State herbarium. She has published eight scholarly articles and 12 book reviews, while also having given 24 professional oral or poster presentations. She has worked on six research projects in the seven years she has been at Delta State, and has been the recipient of many awards and grants for her research in the field of environmental science.
"All I can say is that many people were involved in helping me achieve my goals throughout the years," Baghai-Riding reported. "This encouragement began when I was pursuing my master's and doctorate degrees and has continued with my employment as a university faculty. The faculty, staff and students at DSU and the local community have been very supportive of my research endeavors."
Excellence in Service
Margaret Tullos, who has been at Delta State since 1989, has worked to bring about many conferences at the University. She served as the Chair for the Department of Social Work Tenure and Promotion Committee for three years, and has also served as the Faculty Advisor for The Alliance, Chair of the Honors Committee and as a Senator for Faculty Senate, in addition to many other committees. Tullos values providing service to create an environment in which each student can grow to his or her maximum potential, and to that end, she has worked to strengthen the University, the social work profession and the Delta community.
"I want to thank the DSU Foundation for their support of faculty with the prizes for excellence," Tullos stated. "The list of nominees was impressive, and I feel humbled and honored to have been selected to receive a prize. Being recognized in this way has challenged and energized me as I continue my work at Delta State."
Emily E. Weaver is the University Archivist in the Delta State University Archives & Museum. Since arriving in December 2003, she has been active in University activities, as well as professional organizations, having served as
She has served as Chair-Elect for Administrative Staff Council and currently serves as the Chair of Staff Council, as well as having participated in several ad hoc committees and standing committees within the organization.
An active contributor to the Presidential Inauguration Committee (2004), "The Year of Cleveland" Planning Committee (2005-2006), IT Strategic Planning Committee (2006-2007), the Mississippi Delta Women's Leadership Program Planning Committee (2007) and REDEFINE (2007 – present), Weaver's commitment to University service and public policy is evident.
Within the Delta communities, Weaver aided in the MS Humanities Council's Reading Bonds program as the Discussion Leader; served as a MS Humanities Council program evaluator; judged the Cypress Parks Reading Fair for the past three years; volunteered with the United Way of Cleveland; and delivered several presentations to special interests groups on the importance of preserving our local history and highlighting specific exhibits.
In addition to her regular archival and curatorial responsibilities within the Charles W. Capps, Jr. Archives & Museum Building, Weaver has spearheaded several small exhibits in areas around the communities for specific organizations and special events. Most recently, she curated a permanent exhibit dedicated to celebrating the life and accomplishments of former Delta State head baseball coach, Dave "Boo" Ferriss. "Inning by Inning: A Life in Baseball, The Dave "Boo" Ferriss Museum" will be housed inside the Robert L. Crawford Center at, fittingly, Dave "Boo" Ferriss Field. The exhibit is set to open in late March.
"Working for Delta State University as the University Archivist is a dream job, so to be honored for doing something I love to do and believe so passionately in, is just an incredible feeling. I thank the Foundation for its generous and unwavering support," Weaver offered.
To date, the Foundation has recognized 18 Delta State faculty members in three years.