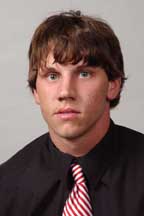 Scott Eyster
Statesmen quarterback Scott Eyster will serve on Delta State University's athletic director search committee, President Dr. John M. Hilpert announced today.
A four-year letterman with the DSU football program, Eyster paced the Statesmen to 12-3 mark on the season, finishing ranked No. 3 in the final American Football Coaches Association Top 25 Poll. Currently working on his master's degree in sports management, Eyster maintains a 3.5 GPA and is three-time All-Gulf South Conference academic honor roll selection.
"Scott has had equal success on the field and in the classroom. He has first-hand knowledge of the operation of our athletic department and is an excellent addition to the search committee," Hilpert acknowledged.
Dr. Rose Strahan, chair of the mathematics department at Delta State and NCAA faculty athletic representative for the university, will chair the committee. She will be joined by the following:
· Georgene Clark – English Faculty (Faculty)
· John Cox – Cox and Moore Law Firm (Alumni Association)
· Scott Eyster – Delta State student-athlete
· Gary Gainspoletti – Gainspoletti and Associates (Athletic Booster Club)
· Mike Kinnison – Head Baseball Coach (Athletic Staff)
· Wayne Lee – Health Physical Education & Recreation Faculty (Athletic Alumni)
· Ned Mitchell – South Group/Bolivar Insurance (Foundation)
· Billy Moore – Dean of College of Business (Academic Administration)
· Sandra Rushing – Head Women's Basketball Coach (Athletic Staff)
· Greg Redlin – Vice President for Finance & Administration (Staffing – ex officio)
· Judson Thigpen – Executive Director of the Cleveland-Bolivar County Chamber of Commerce (Community)
· Sam Washington – Director of Purchasing (Athletic Committee)
University officials project that an effective search may require three months or more, not unusual, for a nationwide search process.
Further details regarding the search process will be released as they become available.