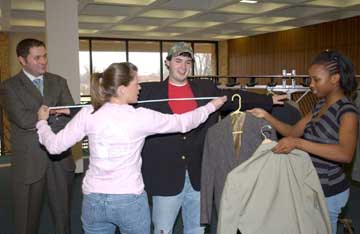 Jason Umfress, left, director of Career Services at Delta State looks on as Heather Hilderbrand, a graduate student and natural sciences major of Bentonia, and Tierra Welch, a freshman accounting major of Okolona, decide which suit jacket best fits Macalaster Deveney, a junior pre-med major of Memphis, Tenn. Delta State's Career Services recently launched a program, "Suit Yourself Sale," in which donated business attire will be sold to students at bargain basement prices prior to Career Day. Proceeds of the sale will fund cutting-edge interviewing software, called "Perfect Interview."
Delta State University Career Services recently launched an innovative program geared to help students get the edge in the job market.
The "Suit Yourself Sale" is designed to offer cost effective, "gently worn" business dress attire to students for purchase at bargain basement prices. Donated attire will be sized and offered to DSU students, with proceeds going toward the acquisition of cutting-edge interviewing software, called "Perfect Interview."
"We recognize that achieving a professional image on a college budget can be difficult," Jason Umfress, Assistant to the Vice President for Student Affairs and Director of Career Services, acknowledged. "We want to do what we can to ensure our students meet the expectations of the potential employers in attendance at Career Day.
"I believe the 'Suit Yourself Sale' program can be a win-win situation, in that we can provide our students, not only with the clothes to wear to an interview, but also with the skills to ace that interview by working the 'Perfect Interview' software."
The Career Center will be accepting donations of "gently worn" sport coats, suits, ties, skirts and slacks – men's or women's – until Monday, Feb. 12. The items collected will be put on sale, at bargain basement prices, during Career Week on Feb. 15 -16 – just days prior to Career Day on Tuesday, Feb. 20.
To donate, please bring your items – on hangers – to Career Services, Union 300 (third floor) in the H.L. Nowell Union Building on campus. Umfress and his staff will work with the community to schedule pick-ups, as well.
For more information on the "Suit Yourself Program," please call Delta State Career Services at (662) 846-4646.