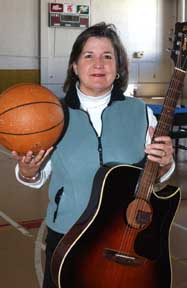 Tricia Walker, director of the Delta Music Institute, with the help of others, has planned for one last game of "Okra," as Delta State University begins to transition Whitfield Gymnasium into two world-class recording studios. "The Last Shoot Out at Whitfield" is scheduled for Tuesday, Feb. 13 at 6 p.m.
The Delta Music Institute, a recording and music industry center on the campus of Delta State University, will host "The Last Shoot Out at Whitfield" on Tuesday, Feb. 13 at 6 p.m. in Whitfield Gymnasium on the campus.
"The Last Shoot Out at Whitfield" will mark the transition of historic Whitfield Gymnasium from a sports and recreational venue to the home of the DMI recording studios. Construction on the studios is set to begin in early spring.
First constructed in 1939, Whitfield Gymnasium was named in honor of Governor Henry L. Whitfield, who had signed the bill creating Delta State Teachers College.
Students and alumni will compete in a basketball shooting game of "OKRA" to determine champions in two brackets. Door prizes will be drawn during the evening's event. Registration is $5 which includes a commemorative t-shirt.
To sign up for "The Last Shoot Out at Whitfield," please contact Doug Pinkerton at (662) 846-4569 in the Wyatt Gym on the DSU campus or by email at dpinkrtn@deltastate.edu.
The Delta Music Institute is a first step towards a broad program in Arts Production. It began with a generous donation by Fred Carl of Viking Range Company in 2003. The focus of the DMI is to provide students with a broad and thorough education in the technological, business and creative areas of the music industry.
For information about the DMI, please contact (662) 846-4579 or dmi.deltastate.edu.