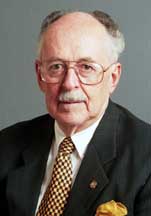 Dr. Jerry Robinson
For 22 consecutive years, Dr. Jerry Robinson, Jr., distinguished professor emeritus of rural sociology at Delta State University and the University of Illinois at Urbana-Champaign, has presented the opening session of The Kentucky Agricultural Leadership Program.
Robinson will, again, be presenting his day-long workshop, "What it means to be a Leader, Why Agriculture Needs Strong Leaders & Effective Leadership Styles," Wednesday, Jan. 24 at the University of Kentucky.
A two-year program sponsored by the University of Kentucky and private businesses in the Kentucky area, The Kentucky Agricultural Leadership Program offers emerging agricultural leaders the opportunity to participate in intensive seminars and workshops, visit Washington, D.C. and travel abroad. First launched in 1985, the program is limited to a class of 20-25 adults who are selected on the basis of demonstrated leadership ability and commitment to make future contributions to agriculture, rural communities and society.