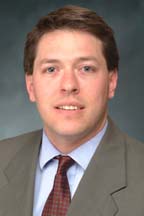 Dr. Brad Teague will be formally introduced as the new athletic director at Division I-AA University of Central Arkansas at a press conference in Conway, Ark., this afternoon at 2 p.m. Teague resigned from his post as Delta State University athletic director to accept UCA President Lu Hardin's offer, Tuesday, Jan. 23.
Teague first interviewed with Hardin Friday, Jan. 19, after being contacted about the vacancy late last week.
"We are obviously disappointed to be losing Dr. Teague," Delta State President, Dr. John Hilpert said. "He has led the Delta State athletic department with character and integrity, and the success Delta State athletics has enjoyed over the past four years is evidence of his leadership.
"This is an opportunity for the Teagues, and we wish them the best in the future," Hilpert continued. "We thank Dr. Teague for the service and commitment he has shown to Delta State University over the years."
Of his decision to resign, Teague offered, "Delta State University, Cleveland, Miss., and the people of both are extremely important to me and my family. This was not an easy decision to come to, but I feel, at this time in my life, I can not pass this opportunity up.
"I would like to thank Dr. Hilpert, the University family, the Cleveland community, our fans and the coaches, staff and student-athletes that have made my time as athletic director so very special. In my heart, I will forever be a Statesman," he concluded.
Teague is scheduled to begin work in Conway, Ark., March 1.
Delta State, through its Office of University Relations, will release details of its intended search process later this week.