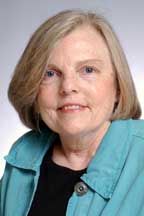 Dorothy Shawhan
Delta State University is set to hold its 2006 Fall Commencement, Saturday, Dec. 9, at 10 a.m. inside Walter Sillers Coliseum on the DSU campus, with Dorothy Shawhan to deliver the keynote address.
As has been the practice, the winner of the S.E. Kossman Outstanding Faculty Award delivers the fall commencement keynote address. The 24th overall recipient of the honor this past May, Shawhan will hold true to the tradition, returning to Delta State's campus, Saturday, to offer wisdom and advice to the graduating class.
Shawhan chaired the Languages and Literature Department at Delta State from 1992 until her recent "retirement" in June 2006. The veteran professor of English refused to call her departure a "retirement," but rather, a "change in focus."
That shift has allowed Shawhan more time to write, adding to her growing body of published works. She penned "Lizzie," a novel released by Longstreet Press in 1995, and most recently released the long-awaited biography of Judge Lucy Somerville Howorth, co-authored with Dr. Martha Swain.
A 1964 graduate of Mississippi University for Women, she returned to her alma mater as its writer-in-residence this semester.
Next spring, Shawhan will return to Cleveland. An instructor at Delta State since 1981, she still retains an office on the upper floor of Ward Hall on campus.
Delta State is expected to graduate approximately 390 graduates during its fall commencement exercise. Graduation is free; however a ticket is required for entrance.
For more information on Delta State's upcoming fall graduation, please contact University Relations at (662) 846-4675.