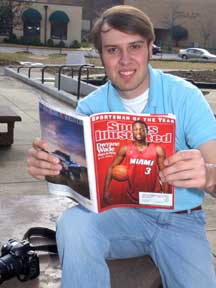 Travis Chamblee
Delta State University senior Travis Chamblee's photography work is currently featured in this week's edition of Sports Illustrated, on stands now. An image of Statesmen quarterback Scott Eyster, captured by Chamblee during the 2006 season, was used by the SI staff in its "Week Ahead" section.
A sports information major of Vicksburg, Chamblee is credited for the work. He first began shooting athletic events last fall as part of his photojournalism class work, under the direction of University photographer, Bill Moses. A natural talent and quick study, Chamblee's work has since been featured in area newspapers, including the Delta Democrat Times, the Cleveland News Leader and the University's school newspaper, The Statement.
His camera work can also be regularly viewed on the Delta State athletic website, www.gostatesmen.com, as Chamblee currently serves as a student assistant in the Athletic Media Relations Office, under the direction of Matt Jones.
Of his first appearance in the sports magazine, Chamblee offered, "Every young athlete dreams of being in Sports Illustrated. This is unbelievable and I am honored. I just thank Sports Illustrated for not only making my dream come true, but Scott's too."