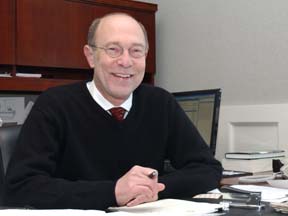 Greg Redlin
Delta State University recently introduced Greg Redlin as the new Vice President for Finance.
The position was left vacant after Billy Morehead accepted a position in the College of Business, as the Chair of the Accountancy, Computer Information Systems and Finance.
"I am extremely proud to be a member of this great University and lovely community," Redlin offered. "I want to thank everyone the kindness they have shown me and my wife, Ro Ann, since arriving."
In just the short time he has been a resident of Cleveland, Redlin has quickly dedicated himself to keeping this "lovely community," lovely. A physical fitness enthusiast, he walks to work each morning toting a small garbage bag, collecting trash and debris from the Fifth Ave. sidewalk.
Redlin comes to the Delta after 15 years of service at the University of South Dakota, where he served as the Vice President for Finance & Administration responsible for business affairs and physical plant management. Several major building projects were completed during his tenure, including a $13 million roof replacement on an indoor football stadium, a $4.5 million journalism/communications building renovation, a $2.2 million enrollment services building renovation and the construction of a new $36 million School of Medicine.
His resume also includes stints at Dakota State University, the South Dakota Department of Transportation and the South Dakota Bureau of Finance and Management. A graduate of the University of South Dakota, Redlin earned a bachelor's degree in political science (1971), a master's in political science and economics (1973) and a master's in business administration (2004).
The son of Don and Virginia of Watertown, S.D., Redlin is married to the former Ro Ann Cameron. The couple has two children, Kathleen, a junior at the University of Minnesota Morris, and Daniel, a freshman at the University of Minnesota.