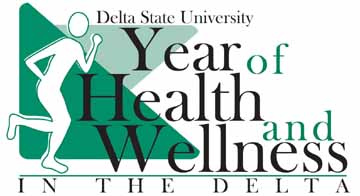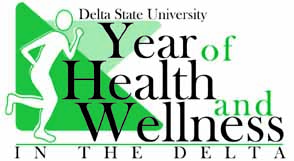 Delta State University officially unveiled its logo for the "Year of Health and Wellness in the Delta." The logo will serve as the year-long celebration's official mark.
According to Dr. Myrtis Tabb, Senior Administrator, Special Projects, at Delta State University, "We had such great success with the 'Year of Cleveland.' We knew when we began planning for this year's theme we wanted to follow that model as closely as possible – that included designing a logo."
Delta State President, Dr. John M. Hilpert proclaimed the 2006-2007 academic term "The Year of Health and Wellness in the Delta" during his earlier "State of the University" address, promising, "You (faculty, staff, students and community) will have opportunities to participate in the months to come."
Tabb concurred, offering, "January is a time of year traditionally marked with New Year's Resolutions and a renewed commitment to health and physical fitness. Our goal is to offer quality programming that, first, educates the community in meeting their health and wellness goals, and two, supports the community in achieving, if not, surpassing those goals."
The Third Annual Delta Health and Wellness is scheduled for Thursday, Jan. 25, from 10 a.m. – 4 p.m. inside the Bolivar County Expo Center. Sponsored by the Leaders of the Delta Health and Wellness and Delta State University, in cooperation with the Center for Community and Economic Development, the event will feature exhibitors offering free health screenings and informative advice. The event is free and open to the public.
"Delta Health and Wellness Day is just one example of the great programming we have in store for 2007," Tabb concluded.
The Year of Health and Wellness in the Delta has already included an October Breast Cancer Awareness Forum, The Elliott-Nowell-White Science Symposium and the Third Annual Community Recognition Luncheon, held recently in the State Room of the H.L. Nowell Union.
For more information or to become involved in the "Year of Health and Wellness in the Delta," please call University Relations at Delta State, (662) 846-4675.