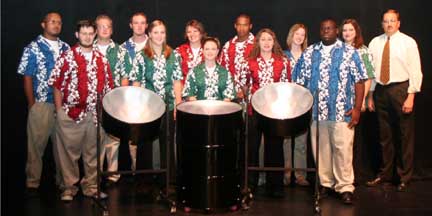 From left: Chris Black

of Shelby

, Klint Keown

of Forrest City, Ark.,

John Coleman

of Columbus

, Brad Hollifield

of Laurel

, Julie Bowen

of Olive Branch

, Larissa Dixon

of Brookhaven

, Megan Morgan

of Olive Branch

, Jerome Jones

of Madison

, Amber Horton

of Colt, Ark.

, Elizabeth King

of Yazoo City

, Derrick Ward

of McCool

, Desta Hallmark

of Mooreville

and Larry Bradford, director.
The Delta State University Steel Band, under the direction of Dr. Larry Bradford, assistant band director and instructor in music, has been invited to perform in the 2006 Gator Bowl Parade, Sunday, Dec. 31, in Jacksonville, Florida.
The 12-member steel band will participate in the parade atop a flatbed trailer playing traditional calypso and soca music. The group will also perform Monday, Jan. 1, 2007 as part of the pre-game festivities.
The 2007 Toyota Gator Bowl will feature West Virginia University, as the Big East representative, squaring off against ACC representative, Georgia Tech. Kick-off, inside AllTel Stadium, is scheduled for noon (CST).
"This is a wonderful opportunity for us to perform for thousands of people and show what Delta State and the Mississippi Delta has to offer potential students," Bradford offered of the invite.