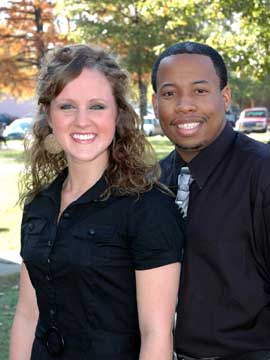 Delta State University seniors Brittany Flippo (left), a nursing major of Enid; and Robert Smart, an elementary education major of Lexington, were recently elected Mr. and Miss DSU by the student body of Delta State in elections sponsored by the Student Government Association.
Flippo is a member of Delta Delta Delta Sorority where she serves on the continuing education committee, Student Alumni Association and Order of Omega. She is vice president of Omicron Delta Kappa and a delegate to the state convention for Student Nurse's Association. Flippo has been an Orientation Leader and was elected Junior Class Favorite. She is the daughter of James and Shelia Flippo of Enid.
Smart is a member of Phi Beta Sigma Fraternity, Inc. He is also president of the Pan-Hellenic Council, president of African-American Student Council, president of Mississippi Early Childhood Association and a member of Delta Diplomats. He is the son of Bonita P. Smart and the late Robert Smart, Sr.