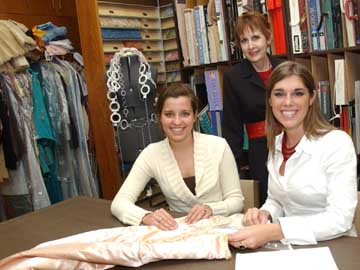 Delta State sophomore fashion merchandising major, Katie Tatum of Madison; fashion merchandising professor, Dr. Jan Haynes; and Reagan Smith, show coordinator and senior fashion merchandising major of Rolling Fork, continue preparation for the upcoming fashion show, "Utopia: Where Fashion meets Fantasy."
The Delta State University Fashion Promotion Class, Student Government Association and Team Cleveland merchants are pleased to announce their upcoming fashion show, "Utopia: Where Fashion meets Fantasy."
Scheduled for Tuesday, Nov. 21 at 7 p.m. inside the Jacob Conference Center of Ewing Hall on campus, the show will feature exciting, new daytime, evening and holiday fashions for today's college students. Great contemporary styles and the latest trends will be spotlighted from Team Cleveland and other Delta merchants. The show will be highlighted by many original designs created by Delta State Fashion Merchandising students and faculty.
The event is free and open to public. Great door prizes will be given away by area merchants.
For more information please call show coordinator, Reagan Smith at (662) 846-4155 or chair of the Division of Family and Consumer Sciences at Delta State, Dr. Jan Haynes at (662) 846-4322.