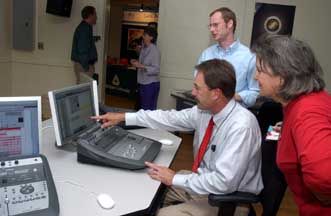 Delta

State

University

Dean of Arts & Sciences Collier Parker (seated) looks over Delta Music Institute's new MAC G5 Pro Tools Digital Audio Lab with DMI Director Tricia Walker (foreground) and Digital Audio Instructor Chad Washington. The Delta Music Institute recently held an open house to show the high tech equipment now available for instructional purposes, as well as plans for how the remaining portions of Whitfield Gym will be converted into recording studios

.
The Delta Music Institute, a recording and music industry center on the campus of Delta State University, held an open house yesterday afternoon to celebrate the opening of its new digital audio recording lab.
The state of the art digital music lab is equipped with 15 stations, featuring Apple dual G5 computers and DigiDesign 002 factory audio interfaces with music production toolkits.
"Having a digital lab of this caliber along with veteran music industry professionals as instructors will put Delta State University at the forefront of educating students about the entrepreneurial opportunities in today's music and recording industries," offered Delta Music Institute's Director, Tricia Walker.
DigiDesign hardware and ProTools software have become the standard for recording in the music industry. The DMI lab is the only one of its kind in the state of Mississippi and will offer interested students the opportunity to learn the art and science of recording, editing and mixing music in a digital environment as part of the DMI's curriculum.
DMI's chief audio engineer, Willie Pevear, explained, "This caliber of lab will give students the chance to work with world-class equipment so they will be better prepared to face the challenges of the real world after they graduate."
The ProTools digital audio lab represents the first step towards Delta State becoming a DigiDesign-sponsored university. A DigiDesign ICON recording console will be installed in the DMI studio before the end of the semester to continue the move towards full sponsorship by DigiDesign.
The Delta Music Institute is a first step towards a broad program in Arts Production. It began with a generous donation by Fred Carl of Viking Range Company in 2003. This program will ultimately have divisions in Music, Art and Theatre Production, preparing graduates for careers involving the business of the arts. The DMI program is located in the former Whitfield gymnasium on campus.
For information about the DMI, please contact (662) 846-4579 or dmi.deltastate.edu.