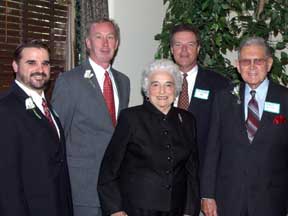 Craig Verhage, Bill Crump, Sue King, Jimmy Avery, Robert E. Smith
As part of its many Homecoming activities this past weekend, Delta State University's Alumni Association recognized this year's service award winners, including Fred Carl, Jr. of Greenwood; Dr. Jimmy Avery of Cleveland; Sue Thweatt King of Cleveland; Robert E. Smith of Cleveland and Craig Verhage of Cleveland.
Viking Range Corporation's founder, chairman, president and chief executive officer, Fred Carl, Jr. was recognized this year as Delta State's Outstanding Alumnus of the Year.
A 1975 graduate, Carl has since molded Viking Corporation to become the industry's leading manufacturer of upscale kitchen appliances for the home, serving the North American market, as well as over 80 other countries throughout the world. The company revolutionized not only the kitchen industry but the Mississippi Delta. Today, Viking Range Corporation employs more than 1,400 people.
Carl remains committed to improving the quality of life in his native Greenwood, the Delta and Mississippi. Throughout it all, he has never forgotten Delta State, adding, "Delta State provided me a solid educational foundation at a critical time in my early adult life, long before I ever dreamed of Viking Range Corporation. Returning from military service and with a young family to support, I was extremely fortunate Delta State was near my home.
"I was able to commute for two and one-half years, get a quality education, work to support my family and complete my college degree," he continued. "Viking Range Corporation continues to benefit from its proximity to Delta State University, hiring many fine graduates as employees and utilizing the resources of this University in our ongoing educational programs for our employees."
Unable to attend the ceremony due to prior obligations, Carl sent his gratitude and appreciation, as Viking Corporation administrator and fellow Delta State graduate, Bill Crump accepted the award.
Dr. Jimmy Avery of Cleveland was presented the Hugh Ellis Walker Alumni Service Award, named for Hugh Ellis Walker who served as the Director of the Delta State Alumni/Foundation for 24 years. Avery is the Extension Aquaculture Leader and Professor for Mississippi State's National Warmwater Aquaculture Center located in Stoneville. A 1982 Delta State graduate, Avery served as president of the Alumni Association and president of the Green and White Fund. In addition to his numerous volunteer efforts on behalf of DSU, Avery serves on the Board of Directors for the Bolivar County Habitat for Humanity and as a coach for the Cleveland Park Commission.
Presented annually to a Delta State alumnus who has made an institutional changing contribution, the Legacy Awarded was introduced in 2005. The award's second honoree, Sue Thweatt King, contributed two "firsts" to Delta State. She was the first Director of Admissions, a title given to her by former Delta State President, Dr. James Ewing, after she and H.L. Nowell began traveling to area high schools recruiting students on their own. As an employee in the registrar's office she saw a need to actively recruit the best and brightest students to the university during the late 1930's and early 1940's when many students had left campus for military service.
Her second "first" was that she was the first female member of a flight team. In the early 1940's when the country was at war, there were few men on campus. The Air Force was organizing ten member flight teams on campuses to prepare pilots for WWII. When there were only nine available men, she was asked to be the 10th. Although she never served in the military, she received her pilot's license.
Named for Gladys Castle, a 46-year employee of Delta State University who served as the first alumni secretary, the Gladys Castle "Friend of Delta State" Service Award was presented to Robert E. Smith this year. An active member of the First United Methodist Church, he supports numerous charitable causes and outreach ministries. Smith is a former board member of the Delta State Foundation and currently serves on the Wesley Foundation Board of Directors. A retired rice and soybean farmer, Smith has endowed several scholarships at Delta State.
Craig Verhage was honored as the Kent Wyatt "Young Alumnus" Service Award recipient. Presented to an alumnus 35 years of age or younger who has provided the University outstanding service, the award is named for former Delta State president, Dr. Kent Wyatt. Verhage has been an agent with Shelter Insurance Companies for 12 years. He graduated from DSU in 1992 with a Bachelor of Business Administration degree. While a student, Verhage was a member of the Pi Kappa Alpha fraternity, Student Alumni Association and Interfraternity Council. He currently serves on the Alumni Board of Directors and has served as past president of both the Green and White Club and the Bolivar County Alumni Association.
This year's Homecoming festivities featured a patriotic theme, "Proudly We Hail," as the Alumni Association honored veterans, the Class of 1956 and the 2000 Championship football team.