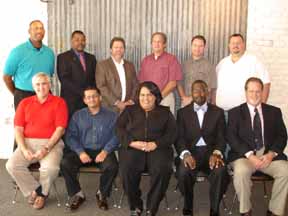 The Mississippi Delta Technology Board of Directors – (Back row, l. to r.) Lawrence Johnson; Larry Williams; Greg Hayman, Board President; Johnny Williams, Treasurer; Bart Freeland, Vice President; Talbot Brooks (Front row, l. to r.) John Henderson, Vice President; Shyam Ramachandran, Vice President; Jessica White; Brian Dorsey, Program Coordinator; Grover Greer
The Mississippi Delta Technology Council Annual Meeting, in conjunction with the Delta Business & Technology Showcase, will be held Friday, Oct. 6, at the Alluvian Hotel in Greenwood.
In partnership with Delta State University, the Mississippi Delta Technology Council is armed with a mission to enhance the strengths of the Delta by promoting, celebrating and leveraging successful applications of technology. The Council specifically targets three areas – agriculture, health care and business and industry.
The Council's Board of Directors encourages all interested to participate.
Scheduled from 10 a.m. – noon, the purpose of the Delta Business and Technology Showcase is to celebrate and inform the leaders and citizens of Mississippi of the current uses of technology in the Delta region. Members of all sectors are invited to participate. There will be representatives from agriculture, business and industry, as well as health care exhibiting the latest in technology in their respective areas.
Following the showcase, lunch will be provided to all registered participants. At 12:30 p.m., Dr. H. Randall Goldsmith, President and CEO of the Mississippi Technology Alliance, will deliver a keynote address.
For more information on the Mississippi Delta Technology Council or to register for the event, please contact (662) 846-4765.