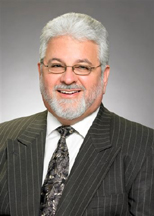 Dr. Ron Berk
The 2006 ROMEA Faculty Development Conference is scheduled for Wednesday, Sept. 27 in Ewing Hall on the campus of Delta State University. Faculty from institutions across Mississippi will be presenting on a variety of topics throughout the day. Lunch will be provided. The conference is free to DSU faculty and staff and $25 for all other attendees. Registration information is available at http://ntweb.deltastate.edu/HEC/HEC/.
Dr. Ron Berk, Professor of Biostatistics & Measurement and former assistant dean for Teaching from The Johns Hopkins University, will be the featured presenter for the conference. In his keynote address, Humor as an Instructional Defibrillator, Berk draws on the theory of multiple intelligences and research from cognitive/neuropsychology, education, commercial advertising, humor, and communications. Ten evidence-based humor methods, divided into low-, moderate-, and high-risk categories, are described through verbal examples, music, video clips, and audience participation.
Berk will also conduct a workshop entitled Top 14 Strategies to Measure Teaching Effectiveness from 3-5 p.m. This state-of the-art session will be a fun-filled romp through 14 potential sources of evidence that are described in the faculty evaluation literature: (1) student ratings, (2) peer ratings, (3) external expert ratings,(4) self-ratings, (5) videos, (6) student interviews, (7) alumni ratings, (8) employer ratings, (9) mentor's advice, (10) administrator ratings, (11) teaching scholarship, (12) teaching awards, (13) learning outcome measures, (14) teaching portfolio. Multiple sources of evidence are used to provide a more accurate and reliable base for formative (teaching improvement) and summative (annual contract renewal, merit pay, promotion, and tenure) decisions than any single source.
A separate conference for Delta State University students will run concurrently across campus. Students will have an opportunity to attend several sessions dealing with college life, personal responsibility and career planning. For a complete schedule of student sessions go to http://ntweb.deltastate.edu/HEC/HEC/ or contact Jason Umfress, director of career services at Delta State, at (662) 846-4646 or jumfress@deltastate.edu.
ROMEA 2006 is co-sponsored by the Delta State Teaching Excellence Committee and the Student Engagement Champions and is made possible by a grant from the Kent and Janice Wyatt Faculty Development Fund. For a complete schedule and registration information go to http://ntweb.deltastate.edu/HEC/HEC/ or contact Lynn Byrd (662) 846 -4422 or Karen Fosheim (662) 846-4622, conference co-chairs.