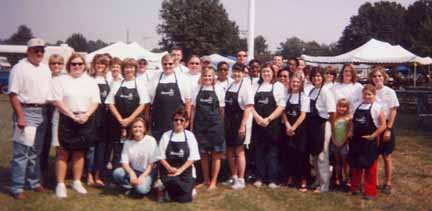 For the past seven years, Don Pittman, retail area sales manager for the Delta Region of North Mississippi (16 branches) and a 1975 graduate of Delta State, has spearheaded the Pig Pickin BBQ and Tailgating volunteer efforts of Regions Bank. This year, more than 50 Regions Bank employees will volunteer to help in all aspects of the day's events, scheduled for Saturday, Sept. 23 at Shumate Park.
Delta State University will celebrate its 21st annual Pig Pickin', Saturday, Sept. 23, at Shumate Park with a full day of barbecue and tailgating, prior to the Statesmen's 6 p.m. kick-off versus Ouachita Baptist.
As in the past, this year's event will be a cook-off as area teams prepare the barbecue. Judging is set to begin at 1:30 p.m., with team winners to be announced at 4:30 p.m.
Serving lines stay open from 3 p.m. – 5 p.m. Barbecue plates are available for $6, and tickets may be purchased in advance at the Hugh Ellis Walker Alumni House on the University campus.
Barbecue isn't the only thing on the day's menu, though, as activities also include the CellularSouth Little Okra Fun Fair (2 p.m. – 5 p.m.); a pep rally; DJ music; the Delta State cheerleaders and dance team; snow cones; a free raffle of a children's bicycle and a $1 (per ticket) raffle for Viking Range products. The Delta State Alumni-Foundation will also be sponsoring Pig Pickin' logo items, including t-shirts, caps and aprons, all $10 each.
At 3:30 p.m., the Delta State University marching band will make its way through Shumate Park, followed shortly after by the "Champions Walk" at 3:45 p.m., as Statesmen faithful will have the opportunity to cheer on the Delta State football team heading to Travis E. Parker Field.
Kick-off is scheduled for 6 p.m. against Gulf South Conference opponent, Ouachita Baptist. Fans are encouraged to stay in their seats following the ball game for a giant fireworks display to culminate the "Year of Cleveland" celebration.
For more information on this Alumni-Foundation sponsored event, please contact (662) 846-4708 or email alumni@deltastate.edu.
Tickets for the Delta State football game can be purchased online at www.gostatesmen.com or for more information, please contact the athletic department at (662) 846-4300.