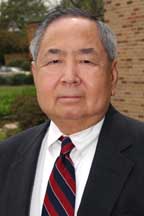 John Quon
The collective Delta State University community is mourning the loss of John Quon today, as the assistant professor of accountancy passed Sunday morning at his Moorhead residence.
Quon, 64, dedicated over 40 years of his life to the professions he loved – teaching and accounting. In an announcement sent to other Delta State faculty, The College of Business noted, "Mr. Quon will be remembered for his devotion to students, to Delta State, and to the accounting community, he worked his lifetime, to build."
He began his teaching career at Mississippi Delta Community College in 1966, before moving to Northwest Community College in 1967. He spent three years at the University of Mississippi as an instructor, and later came to Delta State University in 1971, where he would serve until his untimely death.
"Mr. Quon believed in doing what was best for Delta State University, the College of Business, our students and the accounting profession. He represents the epitome of our profession. He leaves behind a legacy of professionalism and dedication. His maintenance of high academic standards is legendary," Dr. Billy C. Moore, Dean of the College of Business expressed.
"He challenged our students academically and socially, and wanted our students to have a high-quality education that would prepare them for their chosen careers. For this commitment, he was well respected and will be remembered by his students and colleagues. When one mentions accounting at Delta State, his name is the first one that comes to mind. His position may be filled, but he will never be replaced," Moore concluded.
A graduate of the University of Mississippi, Quon earned his bachelor's degree in accounting in 1964, before completing his MBA in 1965, also at Ole Miss. He later completed advanced study in finance, accounting, microeconomics, quantitative economics and organizational behavior in 1971, also at Ole Miss. Quon became a licensed CPA in 1985.
Active both on the Delta State campus and in civic and professional organizations, Quon earned the University appointment, "John Yurkow Distinguished Professor of Accountancy" in 1998, while also being recognized with a gubernatorial appointment to the Mississippi State Board of Public Accountancy.
Recognized as the Mississippi Society of Certified Public Accountants' Outstanding Educator of the Year in 1999, the S.E. Kossman Outstanding Faculty Award in 1992 and twice presented the Panhellenic Outstanding Faculty Award in 1989 and 1992, Quon's devotion to his student and the University was well known, well respected and well rewarded. He was inducted into four honor societies, including Omicron Delta Kappa (ODK), Omicron Delta Epsilon, Delta Mu Delta and Beta Alpha Psi.
His commitment to ODK carried far past induction, having served as faculty secretary-treasurer from 1986 to the time of his passing. He was equally committed to his work with Delta Mu Delta (a national honor society in business administration), having dutifully served as faculty adviser since 1984.
He is survived in death by his wife, Frieda, a librarian and assistant professor of library services at Delta State; two sons, Trey and Shannon; and three grandchildren.
There will be a memorial service on Delta State's campus at 11:30 a.m., Thursday, Sept. 14, inside Jobe Auditorium. The memorial will be followed by remembrance reception in the State Room of the H.L. Nowell Union.
The family has asked that donations, in lieu of flowers, be made to the John Quon Accounting Scholarship Fund, c/o The Delta State Foundation, DSU Box 3141, Cleveland, Miss., 38733.