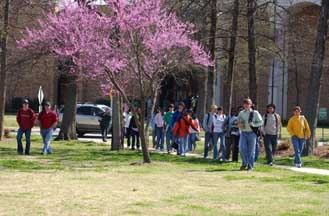 Student enrollment at Delta State is the highest it has been in the school's 81-year history behind three year's of solid increases and ten percent growth over the last five years.
Delta State University officially announced its headcount enrollment for the fall 2006 semester today at 4,216 students, representing an almost three percent increase from a year ago.
Compared to state-wide figures, Delta State ranks second in its increase among all public institutions behind Mississippi University for Women at 6.3 percent growth, with five of the eight state institutions reporting increases. According to the Board of Trustees of State Institutions of Higher Learning (IHL), preliminary fall enrollment figures for 2006 at Mississippi's Universities showed a slight growth with just under 70,000 students enrolled for the semester.
Delta State, behind three years of steady, solid growth, boasts a ten percent increase over a five-year enrollment period. In 2001, 3,801 students were enrolled at the University, while today's enrollment figures stands as the largest tally in the institution's 81-year history.

"Delta State University is dedicated to serving the students of this region. We are equally committed to continual growth and today's numbers stand as evidence to that commitment," lauded Delta State President, Dr. John M. Hilpert. "Much of the credit must go to the enrollment management team for their positive efforts and hard work."
Dr. Debbie Heslep, Dean of Enrollment Management, was equally pleased with the enrollment figures, offering, "I am very excited about our continued growth. The marketing efforts by the University, along with our recruiting staff have made great progress in making Delta State University known throughout the region. Our goal is and will continue to be increasing the awareness of the University and all of its top-rated offerings."
Area recruiters are positioned throughout the state of Mississippi, as well as Tennessee, Louisiana, Alabama and Arkansas to assist students interested in enrolling at Delta State University. Recruiter territories include North Mississippi and Tennessee – (662) 402-0860; Northwest Mississippi – (662) 721-0865; Southwest Mississippi – (662) 402-0867; Northeast Mississippi – (662) 402-0864; and Southeast Mississippi – (662) 402-0862. All out-of-state students can contact (662) 846-4020, while transfer students can contact (662) 402-0861.
Interested students can also apply on-line at www.deltastate.edu.
For additional information on enrollment or to learn more about the application process, please contact the Office of Admissions and Recruiting at (662) 846-4020.