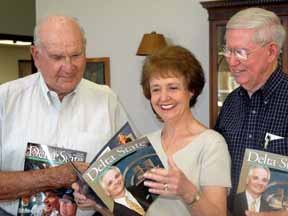 In an effort to better connect with its alumni, the Delta State University Alumni-Foundation, in partnership with the Office of University Relations, proudly announces the debut of eStatesmen Alumni, an electronically delivered monthly newsletter. Armed with the mission of timely communication, eStatesmen Alumni will provide Delta State alumni current and noteworthy happenings at the University in an easily accessible, manageable and interactive format.
eStatesmen Alumni will feature breaking headlines, upcoming events, updates from DSU alumni across the country, class notes and spotlight features on current students, faculty and staff. "We are just so excited about the launch of eStatesmen Alumni," Delta State alumni director Vicki Fioranelli offered. "We felt there was a strong need to keep our alumni better informed and better connected to their alma mater. We are confident eStatesmen Alumni will help in meeting those desires."
eStatesmen Alumni will supplement Delta State Magazine, which is slated for a March 2006 release date. At top right Dave "Boo" Ferriss, retired Delta State University foundation director and former Statesmen head baseball coach; Fioranelli; and Hugh Ellis Walker, retired DSU alumni/foundation director; review the fall issue of Delta State Magazine.
The alumni magazine is distributed twice annually to 21,000 Delta State alumni and friends. The full-color collaboration reports on achievements in academics, athletics, alumni affairs and fundraising, while also featuring current students, faculty, staff and alumni. According to Fioranelli, "There is such a common misnomer that to be an alumnus, you must have graduated from the Delta State. That is simply not true. An alumnus is any former student who carried at least one full course load at the University and is considered a non-degreed alum. We want our alumni to always feel connected, as well as friends and donors."
Alumni are encouraged to contact the alumni office if they are not receiving their magazine or if they would like to begin receiving a copy of the eStatesmen Alumni. To report updated contact information, please call (662) 846-4660; email alumni@deltastate.edu; or send address changes and updates to Delta State Alumni, Box 3104, Cleveland, MS 38733.