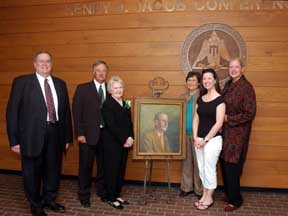 Pictured are: (from left) Delta State University President Dr. John M. Hilpert; President and CEO of Tristate Educational Foundation Dr. Bob Ferguson; Marynell Jacob; Sylvia Ferguson; DSU elementary education major and Tristate Educational Foundation scholarship recipient Ashley Mauney of Ripley; and Pat Hilpert.
"It is my regret that I never met Dr. Henry Jacob, because as you listen to people talk about him, it is apparent he touched a lot of lives. It is apparent he enjoyed universal respect and high regard," Dr. John M. Hilpert, President of Delta State University, opened this morning at the dedication of the conference center in memory of Jacob.
It was that "universal respect, high regard" and "genuine care he had for his students, his institution and his community" that brought over 75 varied community leaders, Delta State administrators, faculty, staff and students to gather in memory of the late educator, as the Henry J. Jacob Conference Center was officially dedicated inside Ewing Hall.
A 28-year veteran of the Delta State faculty, Jacob served loyally in the College of Education for all of his years on the Cleveland campus. A professor, first, Jacob served as head of the Education and Psychology department in the late 1950's, early 1960's, until becoming the Director of Graduate Studies in 1965. Jacob would later be promoted to serve as the Dean of the School of Graduate Studies in 1971, where he stayed until his retirement.
Dr. Bob Ferguson, President and CEO of Tristate Educational Foundation and proud Delta State alumnus, also delivered his moving reflections of the man he calls his mentor, offering, "This is a very humbling experience as Dr. Henry Judson Jacob had a tremendous influence on my life. If I have acquired any success in this lifetime, it is because of Dr. Jacob. He cared about me; he cared about all of his students. He stood for everything that is good and right in this world.
"But today, is not just about Dr. Jacob, alone. It is also about Delta State University. The two are one in the same in my mind. I can't think of Delta State University and not think of Dr. Jacob. Equally, I can not think of Dr. Jacob without thinking of Delta State University," he finished. Ferguson and his wife, Sylvia, through their generous gift, made the dedication possible.
Jacob was equally involved in the Cleveland community, as he was the Founder and past President of the Cleveland Kiwanis Club, past Lieutenant Governor of Kiwanis International, a deacon and Sunday school teacher at First Baptist Church and past Master of the Free and Accepted Masons.
Milton Burd, Minister to Senior Adults at First Baptist Church, spoke equally high of Jacob's lasting impression, recalling, "Probably 99 percent of those who knew and those who came in contact with Dr. Jacob, called him 'Doctor' Jacob. That was out of respect – out of respect for all that he stood for and all that he meant to so many people."
Able to attend the morning's ceremony was Jacob's daughter, Marynell, who followed in her late father's footsteps. She is a 38-year veteran to the classroom setting as an elementary school teacher in Atlanta. Adorning a fresh white carnation of the lapel of her black suit, she was overwhelmed at the outpouring toward her father. "Daddy would be so proud," she smiled proudly, herself. "All of the good things that I know about life, I know because of Daddy."
Before the close of the ceremony, Hilpert, noted, fittingly, the Henry J. Jacob Conference Center (formerly the Delta Room) is one of busiest and most frequently used meeting areas in the College of Education and on campus.
For more information on the dedication of the Henry J. Jacob Conference Center, please contact the Office of University Relations at (662) 846-4675.