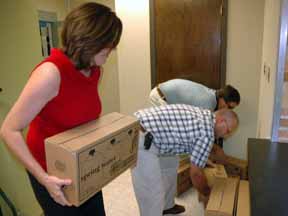 Delta Statement editor Ashley Robertson (left) passes boxes of water to Mark Williams and Todd Kitchings, both of the Bolivar Commercial. This delivery was from North Sunflower Medical Center where Kristy Kitchings, marketing director, coordinated the purchase and delivery.
The Delta Statement, Delta State University's student-campus newspaper, along with the DSU Student Government Association has partnered with the Bolivar County Emergency Operations Center and the local Red Cross chapter to sponsor a bottled water drive for hurricane relief in Mississippi.
Donations will be accepted beginning Thursday, Sept. 1 through Friday, Sept. 9.
Factory sealed containers of water can be dropped off at the information booth on the first floor of the H.L. Union Building on campus, as well as designated community drop-off points, which include Knight Rider Mart located on the corner of Highway 8 West and Bishop Road, The Image Specialists located on Cotton Row-Downtown and The Bolivar Commercial located at 821 North Chrisman Ave.
The water will be transported and dispersed throughout Mississippi to victims and work crews dealing with the aftermath of Hurricane Katrina.
For more information on this effort, please contact The Statement office at (662) 846-4715.